Press Releases
MEXICO
A Collection of Stories by Josh Barkan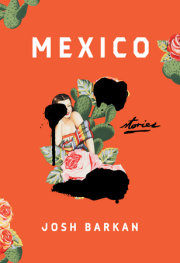 Josh Barkan
Imprint: Hogarth
On sale: January 24, 2017
Price: $25
Pages: 256
ISBN: 9781101906293
Josh Barkan's MEXICO (Hogarth; January 24, 2017) is a stunning, assured collection of twelve stories about ordinary people—parents, lovers, teachers, and artists—struggling to build their lives in a world consumed by cartel violence and chaos. In a group of gritty and vitally relevant stories, Barkan tackles issues spanning immigration, the prison system, and the drug war. Drawing from his own experience as an American living in Mexico, he brings this world to vibrant and authentic life.
Throughout MEXICO, Barkan introduces us to a cast of varied and pitch-perfect characters who find themselves inexorably caught up in and impacted by the criminality and brutality of the Mexican cartels. There is a former beauty queen who bears the scars of her tragic past and helps a cancer patient discover her will to live. There is a teacher whose students, risking death for their star-crossed love, inspire him to make amends with his estranged family. And there is also a painter who is kidnapped off the street, a chef who must cook for a gangster under pain of death, a plastic surgeon forced to alter a fugitive drug lord's appearance, and many more compelling and memorable characters suddenly thrust into harrowing, life-changing situations. But for all that these characters' lives are touched by crime, MEXICO is much more than crime fiction alone. These are complicated and deeply human tales that touch on universally recognizable themes such as parents' desire to connect with their children, an idealistic belief in young love, and the struggle to maintain faith in a world full of hardship. As they confront these challenges, each of Barkan's characters illuminates the human toll such a world demands.
Barkan has a keen eye for detail and an authentic sense of place, polished over many years spent living in Mexico, and he brings this world to life with uncommon grace. As extreme as the events in these stories may be, they are always grounded in recognizable and relatable human characters. Even as they struggle with their complicity in various forms of state-sanctioned violence, the characters confront everything from spousal betrayal, terminal illness, and sexual orientation, to questions of religion, familial values, and professional ambitions. While each of these characters and their stories emerge with utter originality, readers will see themselves in these pages, making the unflinching portrait of drug violence all the more affecting and alarming—and rendering its emergent sense of optimism all the more profound.
MEXICO is a powerful, deeply original collection delivered in turns humorous and tender. Sharply observed and boldly rendered, MEXICO is a remarkable book, not to be missed.
Related Posts: