Press Releases
Mexican Made Easy by Marcela Valladolid
Everyday Ingredients, Extraordinary Flavor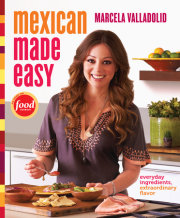 Marcela Valladolid
Imprint: Clarkson Potter
On sale: September 27, 2011
Price: $27.5
Pages: 224
ISBN: 9780307888266
Contact:
Jill Browning
212-572-6182
jibrowning@randomhouse.com
"When it comes to authentic Mexican cuisine, Marcela Valladolid is the real deal. Her flavors will tantalize you. Her techniques will put you at ease." —Bobby Flay
On her popular Food Network show, Mexican Made Easy, Marcela Valladolid shows how simple it is to create beautiful dishes bursting with bright Mexican flavors. Now, Marcela shares the fantastic recipes her fans have been clamoring for in MEXICAN MADE EASY: Everyday Ingredients, Extraordinary Flavor (Clarkson Potter; on sale September 27, 2011).
A single mom charged with getting dinner on the table nightly for her young son, Fausto, Marcela embraces dishes that are fun and fast—and made with fresh ingredients found in the average American supermarket. In MEXICAN MADE EASY, she shares the tricks and stories that comprise her cooking life, from making homemade flour tortillas (not as hard as you might think!) to reinventing one meal's leftovers into a new creation for your next meal (yesterday's roast chicken becomes tomorrow's flautas!).
Some featured recipes in MEXICAN MADE EASY include:
APPETIZERS AND SMALL BITES: Chipotle-Garbanzo Dip; Homemade Queso Fresco with Jalapeño and Cilantro; Shrimp and Avocado Salad; Chicken Flautas; Skirt Steak Quesadillas
TACOS AND TORTAS: Slow-Cooked Carnitas Tacos; Braised Marinated Skirt Steak Burritos; Pork and Salsa Tortas; Shredded Chicken in Peanut-Sauce Tacos; Carne Asada Cheese Tacos
ENTREÉS: Stuffed Poblanos with Walnut Sauce; Mexican Meatloaf with Salsa Glaze; Chicken in Easy Adobo; Cilantro Scallops; Garlicky Buttered Baja Shrimp; Sweet Ancho Chiles in Black Bean Salsa; Chiles Rellenos; Corn and Poblano Lasagne; Chipotle-Plum BBQ Ribs with Brussels Sprout Slaw
SIDES AND SALADS: Steak and Wilted Spinach Salad with Serrano-Mint Dressing; Roasted Butternut Squash Salad with Tangerine-Rosemary Vinaigrette; Creamy Mexican Corn; Potato-Achiote Croquettes; Roasted Baby Red Potatoes with Chipotle Butter; Crimini Mushrooms Stuffed with Chard
DESSERTS: Coconut Flan; Mexican Chocolate Bread Pudding; Pineapple-Cajeta Empanadas; Bananas Tequila Foster; Strawberry Rompope Shake; Banana and Cajeta Layered Crepes
DRINKS: Cucumber Martini; Pineapple-Vanilla Agua Fresca; Mexican Hot Chocolate; Warm Winter Punch; Chia Lemonade; Citrus Spritzer
With 100 make-at-home recipes and 80 sumptuous color photographs, MEXICAN MADE EASY brings all of the energy and fresh flavors of Marcela's popular show into your home. As Marcela implores in the Introduction, "Have fun! It is only food, after all, and it just needs to taste good to you and your family. So experiment, explore, and enjoy!"
# # #
MARCELA VALLADOLID is the host of Mexican Made Easy on Food Network. Raised in Tijuana, Mexico, she attended the Los Angeles Culinary Institute and then the Ritz Escoffier School in Paris before working at Bon Appétit magazine. Her first cookbook, Fresh Mexico, was published in 2009. She lives in San Diego with her son, Fausto. Her website is chefmarcela.com.
Related Posts:
You Might Also Like