Press Releases
meQuilibrium
14 Days to Cooler, Calmer, and Happier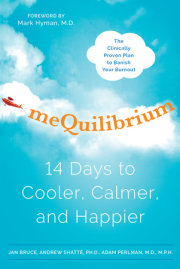 Jan Bruce, Andrew Shatté, Ph.D., and Adam Perlman, M.D., M.P.H.
Imprint: Harmony Books
On sale: February 3, 2015
Price: $26.00
Pages: 256
ISBN: 9780804138499
Contact:
Ellen Folan
212-782-8944
efolan@penguinrandomhouse.com
meQuilibrium \mē-kwə-ˈli-brē-əm\ noun:
a state of vitality, happiness, health, and energy
Manage stress. Don't let it manage you.
Life can be stressful. That's certainly no secret. And it also isn't news that chronic stress takes a toll on the quality of our lives, from our relationships to our jobs to our mental and physical health. Up until now the prevailing wisdom has been that stress can be tamed with quick fixes—a pill, a massage, or a vacation. But wellness experts Jan Bruce, Andrew Shatté, Ph.D., and Adam Perlman, M.D., M.P.H., are turning that assumption on its head and offering two simple but radical truths:
1. You can't annihilate stress. It is an unavoidable part of life.
2. The enemy is not stress—it's the stress effect and your response to it. The antidote to the stress effect and the key to becoming a master of your own life begins with becoming more resilient.
In their new book, meQuilibrium: 14 Days to Cooler, Calmer, and Happier (Harmony Books, February 3, 2015), the authors show you how to fulfill the subtitle's promise. Based on proven cognitive-behavioral science, meQuilibrium offers easy and effective strategies to fundamentally and seismically shift your response to stress and learn how to put the me back into equilibrium—happily and permanently.
The authors have spent years designing their methodology and testing it repeatedly to ensure its efficacy. All readers need to do is dedicate a few minutes each day to fun and intriguing exploration in order to discover the role stress plays in their lives and recalibrate the way they will respond to it in the future.
Combining the systemic, whole-person approach of integrative medicine with the science of resilience and the tenets of positive psychology, Bruce, Shatté, and Perlman have created a personal operating system that engages stress at its roots, so it can't flourish but you can.
With meQuilibrium readers discover:
• How to create a new internal operating system that's not stuck on overwhelm
• How to happily and healthfully coexist with your stress while being more productive and in control each day
• Your personal thinking traps and beliefs that magnify stress and how to navigate them
• Surprising ways to add more joy to your life—because life is not just about subtracting stress!
meQuilibrium transforms how we think about stress. It's not a Band-Aid; it's more than relief—it's a system reboot, targeting the source of how stress is ruling your life. And at the end of just two weeks, you will find that state of happiness, enjoyment, balance, and vitality you've been searching for.
# # #
About the Authors:
Prior to founding meQuilibrium in 2010, JAN BRUCE was managing director and publisher at Martha Stewart Living's Whole Living.com/body+soul magazine. Earlier she served as CEO and cofounder of Integrative Medicine Communications, the leading digital brand in science-based complementary medicine. ANDREW SHATTÉ, Ph.D., founder and president of the training and consulting company Phoenix Life Academy, is a leading expert in resilience and how to boost it. He is a fellow at the Brookings Institution's Center for Executive Education and a former professor of psychology at the University of Pennsylvania, and he currently serves as a research professor in the College of Medicine at the University of Arizona. ADAM PERLMAN, M.D., M.P.H., is a recognized leader in the field of integrative medicine and a respected researcher and educator in the field of complementary and alternative medicine and wellness. His research has been published in the Archives of Internal Medicine and the New York Times. In 2011, he became the executive director for Duke Integrative Medicine.
Related Posts:
You Might Also Like