Press Releases
Melissa Rivers writes loving and humorous tribute to her mother legendary comedian Joan Rivers
The Book of Joan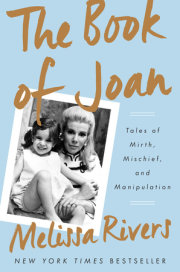 Melissa Rivers
Imprint: Crown Archetype
On sale: May 5, 2015
Price: $26.00
ISBN: 9781101903827
Contact:
Tammy Blake
212-572-2542
tblake@penguinrandomhouse.com
Crown Archetype, an imprint of Penguin Random House's Crown Publishing Group, announced today that it will publish a new book by Melissa Rivers, daughter of comedic icon Joan Rivers, celebrating their special mother- daughter relationship. THE BOOK OF JOAN: Tales of Mirth, Mischief, and Manipulation is scheduled for publication on May 5, 2015, and will be released simultaneously in the United States and Canada in print and digital formats, as well as on audio by Penguin Random House Audio. Vice President and Executive Editor Suzanne O'Neill acquired world, audio, electronic book, and first-serial rights from CAA and will edit the book.
Joan Rivers, who passed away on September 4, 2014, was known all over the world, but there was only one person who knew her intimately, one person who the authorities would call when she got a little out of hand, her daughter and best friend, Melissa. In THE BOOK OF JOAN, Melissa will share funny, poignant, and irreverent observations, thoughts, and tales about the woman who raised her and is the reason she considers Valium one of the four basic food groups.
Joan's love for her daughter knew no bounds—or boundaries, apparently. ("Melissa, I acknowledge that you have boundaries. I just choose to not respect them.") In THE BOOK OF JOAN, Melissa will share stories (like when she was nine months old and her parents delivered her to Johnny Carson as a birthday gift), bons mots ("Missy, is there anything better than seeing a really good looking couple pushing a baby that looks like a Sasquatch who got caught in a house fire?"), and life lessons from growing up in the Rosenberg-Rivers household ("I can do tips and discounts and figure out the number of gay men in an audience to make it a good show. That's all the math you'll ever need."). These were just the tip of the iceberg when it came to life in the family that Melissa describes as more Addams than Cleaver. And at the center of it all was a tiny blonde force of nature.
Said Melissa, "In our family we always believed that laughter was the best medicine. Not only are there less side effects than Prozac but it's a lot cheaper than therapy. I wanted to write a book that would make my mother laugh. I hope it makes you laugh, too."
Said Trish Boczkowski, V.P. Editorial Director, Crown Archetype, "Joan was beloved the world over for her fearlessness and one-of-a-kind sense of humor. But no one was closer to her than her daughter and partner-in-crime. We're honored to be publishing Melissa's loving and hilarious tribute to her mother—a book only she could write. This is Joan as you've never seen her before."
MELISSA RIVERS is an Ivy League graduate, co-creator of the Red Carpet franchise, and the executive producer for the E! Entertainment series Fashion Police. She is also the author of Red Carpet Ready: Secrets for Making the Most of Any Moment You're in the Spotlight and is the first celebrity to partner with renowned online footwear brand, Zappos.com. She lives with her two dogs and son, Cooper, in Los Angeles.
Crown Archetype is an imprint of the Crown Publishing Group, a division of Penguin Random House, LLC. Penguin Random House (http://global.penguinrandomhouse.com/) is the world's most global trade book publisher. It was formed on July 1, 2013, upon the completion of an agreement between Bertelsmann and Pearson to merge their respective trade publishing companies, Random House and Penguin, with the parent companies owning 53% and 47%, respectively. Penguin Random House comprises the adult and children's fiction and nonfiction print and digital trade book publishing businesses of Penguin and Random House in the U.S., U.K., Canada, Australia, New Zealand, India, and South Africa, and Penguin's trade publishing activity in Asia and Brazil; DK worldwide; and Penguin Random House Grupo Editorial's Spanish-language companies in Spain, Mexico, Argentina, Uruguay, Colombia, and Chile. Penguin Random House employs more than 10,000 people globally across almost 250 editorially and creatively independent imprints and publishing houses that collectively publish more than 15,000 new titles annually. Its publishing lists include more than 70 Nobel Prize laureates and hundreds of the world's most widely read authors.
Related Posts:
You Might Also Like