Press Releases
Melissa Rivers — THE BOOK OF JOAN: Tales of Mirth, Mischief, & Manipulation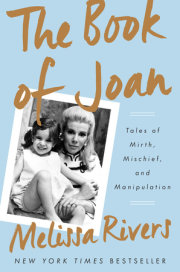 Melissa Rivers
Imprint: Crown Archetype
On sale: 5/5/15
Price: $26.00
Pages: 304
ISBN: 9781101903827
Contact:
Tammy Blake
212-572-2542
TBlake@penguinrandomhouse.com
Hilarious and entertaining, The Book of Joan is a loving tribute to the iconic comedian Joan Rivers, by the person who knew her best—her daughter, Melissa.
Joan Rivers was famous for her biting wit and known all over the world as a fearless stand-up comedian, an award-winning television host, a bestselling author, and the undisputed queen of the red carpet. But there was only one person who knew Joan behind the scenes, one person the authorities would call when she got a little out of hand: her daughter and best friend, Melissa.
 In THE BOOK OF JOAN: Tales of Mirth, Mischief, and Manipulation (Crown Archetype; $26.00; On Sale May 5, 2015), Melissa Rivers has created a fittingly funny tribute to the woman who raised her and was her confidante, cohost, and more. Melissa shares irreverent observations and tales from her life alongside Joan, who she calls the hardest working woman in show business: "My mother was a comedian, actress, writer, producer, jewelry monger, tchotchke maker, spokesperson, hand model, Celebrity Apprentice winner, and self-appointed somewhat-goodwill ambassador to twenty-seven Third World countries that were unaware they had a goodwill ambassador."
For Joan, no subject was off-limits and no words went unspoken—in comedy and in life. Just ask Melissa, who was once told by her mother, "I acknowledge that you have boundaries. I just choose not to respect them." Just as Joan shocked and delighted audiences with her candor, she was prone to saying off-color things off-stage. THE BOOK OF JOAN is full of her outrageous and amusing thoughts on everything from the politics of regifting to the benefits of lying on your resumé.
Melissa recalls growing up in the Rosenberg-Rivers household, a family that was more Addams than Cleaver, where laughter was always the best medicine—if you couldn't find a Valium. There was the time she, at nine months old, was delivered to Johnny Carson as a birthday gift. Or the years backstage at Joan's Vegas shows, where she learned to recite her mother's act before she learned the Pledge of Allegiance. As Melissa puts it, "You haven't lived until you've heard a four-year-old do twelve minutes on going to the gynecologist; follow it with an a cappella version of 'Copacabana,' with the backup parts included; and close with 'In the Ghetto.'"
Melissa also shares Joan's likes (Law & Order, junk food, passing out samples from her QVC collection in Third World countries) and dislikes (sports, flying coach, keeping secrets), and reveals her penchant for hiding cash in Milk Duds boxes. There are wonderfully madcap anecdotes, like the time Joan hitchhiked home from the supermarket when she couldn't find her driver. THE BOOK OF JOAN even includes excerpts from Joan's childhood report cards ("Joan's voice is still loud and she tries to gain attention this way") and the scoop on which stars were good sports on the red carpet and which ones couldn't take the heat.
Joan's lessons cover all aspects of life, love, and Hollywood, and THE BOOK OF JOAN is filled with plenty of her bons mots, including:
 On the importance of learning: "I can do tips and discounts and figure out the number of gay men in an audience to make it a good show. That's all the math you'll ever need."
On growing old and working just as hard: "I'm practicing visualization techniques and I'm seeing myself as the face of Depends."
On celebrity in a digital age: "Up until social media the only way to become a household name overnight was to kill your parents."
On genetics: "Is there anything better than seeing a really good-looking couple pushing a baby that looks like a Sasquatch who got caught in a house fire? I think not."
On marriage: "Your father didn't care if I went to bed mad. He cared if I went to Bergdorf mad."
On vanity: "If you're George Clooney or Angelina Jolie, then by all means, 'look like yourself,' but if you're anyone else, take a shower, put on some blush, and demand backlighting, even if you're going to the supermarket!"
On always being yourself: "Unless you're going to be boring on that day, in which case, do us all a favor and be someone else."
Joan and Melissa Rivers had one of the most celebrated mother-daughter relationships of all time—one that's even more amusing off-screen. Equal parts humorous and heartfelt, THE BOOK OF JOAN is the perfect homage to Joan Rivers's life and comedy, from the one person with the most stories to tell.
About the Author
Melissa Rivers is an Ivy League graduate, co-creator of the Red Carpetfranchise, and the executive producer for the E! Entertainment series Fashion Police. She is also the mother of a fourteen-year-old son, Cooper, who seems to have taken after his grandmother. Melissa is asking for prayers for her sanity.
Related Posts:
You Might Also Like