Press Releases
Meditate Your Weight by Tiffany Cruikshank
A Unique 21-Day Weight Loss Challenge Harnessing the Mind to Lighten Up From The Inside Out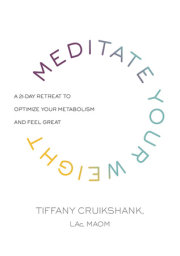 Tiffany Cruikshank
Imprint: Harmony Books
On sale: April 5, 2016
Price: $22.00
Pages: 336
ISBN: 9780804187961
Contact:
Maya Lane
212-782-9164
malane@penguinrandomhouse.com
"Practical, approachable, and super useful, this book helps bring mindfulness back into our lives. If you have issues with cravings and struggle with food or body image, Tiffany Cruikshank's message is a breath of fresh air."
–  Pedram Shojai, OMD, founder of Well.org and author of The Urban Monk
"Hop off the scale, ditch the tape measure, and do something truly radical to optimize your body. Heed the Meditate Your Weight command to use your head to discover what's really weighing you down. Yoga master Tiffany Cruickshank gently and expertly guides the reader from disbelief in meditation to daily dedication as each person has their ultimate epiphany – your best body can only be achieved by igniting and transforming both mind and body"
–  Pam Peek, MD, MPH, FACP, FACSM,
Pew Scholar in nutrition and metabolism and New York Times bestselling author of The Hunger Fix
---
Decades of medical research have shown that meditation offers significant health benefits, from improving sleep and immune system function to reducing blood pressure, depression, and anxiety. Now, internationally renowned master yoga teacher, and meditation, health and wellness expert,
Tiffany Cruikshank (Lac, MAOM) offers an exciting new way to use meditation: to lose weight and revamp your body-brain relationship.  In her new book MEDITATE YOUR WEIGHT: A 21-Day Retreat to Optimize Your Metabolism and Feel Great (Harmony Books; Hardcover; $22.00; On-Sale April 5, 2016), Cruikshank offers a practical, easy-to-follow meditation program that explores  and addresses the physical, emotional, and mental roadblocks  standing between you and a healthy, sustainable weight and body image. 
MEDITATE YOUR WEIGHT  provides a straightforward, daily meditation program to guide you through the various mental obstacles, detrimental thoughts , poor habits and behaviors that stand in the way of positive body image and living  a strong and healthy life. Through simple daily mantras that anyone can relate to, MEDITATE YOUR WEIGHT will help you retrain your brain to rid your life of unhealthy, stressful mental habits, while calming your nervous system, and maximizing your mind's role in a healthy metabolism.
In addition, MEDITATE YOUR WEIGHT offers:
The basics of meditation, including addressing common myths and the two core truths that form the foundation of meditation;
3 -, 5-, 7-, and 10-minute meditations that bust cravings, stress-proof the body, and reboot the brain;
Tips on what to eat – and the top five foods to consider avoiding;
Ten stress-relieving, cardio-reviving yoga exercises to complement the plan.
MEDITATE YOUR WEIGHT is for anyone looking for a new, proven approach to weight loss, whether you've never meditated before or you are a seasoned meditator who wants to expand your practice to optimize your metabolism. By following Cruikshank's structured, progressive three week program, you will see how just five, ten or twenty minutes a day can lead to radical changes in not only your weight, but in your health and happiness as well.