Press Releases
Max McCalman's Wine and Cheese Pairing Swatchbook is a go-to source for aspiring wine and cheese connoisseurs
Max McCalman's Wine and Cheese Pairing Swatchbook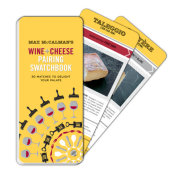 Max McCalman
Imprint: Potter Style
On sale: August 13, 2013
Price: $14.95
Pages: 104
ISBN: 9780770433833
Contact:
Natasha Martin
212-782-8370
namartin@randomhouse.com
From the foremost master of cheese in the country, Max McCalman, comes Max McCalman's Wine and Cheese Pairing Swatchbook (Potter Style, $14.95, on sale August 13, 2013), a practical twist on wine and cheese pairings that includes detailed information about the history, production, and unique flavor of 50 of the world's finest cheeses, as well as the accompanying information on the perfect wine varietals to pair with them.
Authoritative, enriching, and beautifully illustrated with full-color photographs of wine labels and cheeses, this swatchbook is a go-to source for aspiring wine and cheese connoisseurs, novices who want to learn more about ideal pairings, or for anyone who wants to plan the perfect wine and cheese party. In addition to its essential information about identifying and serving each cheese, you'll also learn how to describe different aspects of cheese using terms generally known only to true gourmands. On the back side of each card, the matching wine varietal for each cheese is displayed, alongside the sample label from the recommended producer and list of other suggested varietals.
Max McCalman's Wine and Cheese Pairing Swatchbook makes it easy to navigate the complex world of wine and cheese pairings. Slender enough to tuck into your shopping bag and use as reference at the market, this swatchbook is designed with functionality in mind. Additionally, this guide makes a lovely hostess gift for a housewarming party or for anyone who has a passion for wine and cheese.
About the Author:
MAX McCALMAN is the author of Mastering Cheese (Clarkson Potter, 2009), The Cheese Deck (Potter Style, 2007), Cheese (Clarkson Potter, 2005), winner of the 2006 James Beard Award for Best Reference Book, and The Cheese Plate (Clarkson Potter, 2002), which was nominated for both James Beard and IACP Awards for single-subject cookbooks.