Press Releases
Matt McCarthy offers a funny, candid memoir of his intern year at a New York hospital and a scorchingly frank look at how doctors are made in The Real Doctor Will See You Shortly
Dr. McCarthy takes readers into the critical care unit to see one burgeoning physician's journey from ineptitude to competence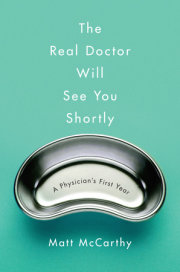 Matt McCarthy
Imprint: Crown Publishers
On sale: April 7, 2015
Price: $27.00
Pages: 336
ISBN: 9780804138659
Contact:
Lauren Kuhn
212-782-8637
lkuhn@penguinrandomhouse.com
Advance Praise for The Real Doctor Will See You Shortly
"[This] rousing memoir describes [a] tumultuous year of medical internship at Columbia University Medical Center in New York, a twelve-month marathon noteworthy for a steep learning curve, emotional extremes, and chronic sleep deprivation.… A genuine glimpse at the making of a doctor." —Booklist

"This story is a year in the life of an almost-doctor, but it is so much more than that. It's a book about mentorship, compassion, pride, and the insecurity of learning the most important lessons in your career—and in your life—long after those lessons were supposed to be taught. It's about the precarious and often unclear boundary between life and death, and those tasked with maintaining this boundary, even at the end of a thirty-hour shift. Perhaps above all, it's about decent people doing a very hard, decent thing with their lives. Yes, doctors are people too—and McCarthy tempers and then transcends the unease of such a reminder by telling his story with much humor, and even more heart." —Jeff Hobbs, author of The Short and Tragic Life of Robert Peace

 "Fascinating, funny, and spot-on. Like my own internship—only with a laugh track. A must read for anyone who's going to be a doctor, or just going to see one." —Lisa Sanders, MD, New York Times Magazine's Diagnosis columnist and author of Every Patient Tells a Story
 
"McCarthy's tale is by turns harrowing, hilarious, and uplifting. Whether you're deciding if you should become a doctor, or merely if you should go see one, this look beneath the hospital gown will change your perspective for good." —David Epstein, author of The Sports Gene

"Thanks to Dr. Matt's column, I know why tennis players grunt, why five-finger shoes are for morons, and why I should have gotten a vasectomy during March Madness. And thanks to this book, I now know how he became the kind of doctor that I feel comfortable going to with stupid drunken questions." —Drew Magary, author of The Postmortal and Someone Could Get Hurt
 
"Hilarious, horrifying, and ultimately inspiring, The Real Doctor Will See You Shortly is a hallucinogenic trip through a doctor's first year, filled with ill-fated pin pricks, misdiagnosis, disappearing patients, life and, inevitably, death. Beautifully written and impossible to put down, here is the unvarnished look at how we create the flawed and ultimately heroic human beings who save our lives—and sometimes don't." —Steve Fainaru, coauthor of League of Denial

"Everything you did—or maybe didn't—want to know about becoming a doctor. Matt McCarthy's tale of internship is equal parts entertaining, cringeworthy, and inspiring." —Danielle Ofri, MD, PhD, author of What Doctors Feel
 
"Matt McCarthy's new book, The Real Doctor Will See You Shortly, is an honest, beautiful, and terrifying look at what goes into creating a doctor. Filled with very human characters, both doctors and patients alike, Matt's well-paced writing makes it easy to imagine yourself in the shoes of a brand new intern, nervous and afraid, yet still tasked with literal life and death decisions. I would recommend this book to anyone who knows or has been treated by a doctor (so basically everyone)." —Chris Kluwe, author of Beautifully Unique Sparkleponies

"Well-written and brutally honest, Dr. McCarthy's engrossing memoir of his internship year is told with uncommon frankness and perception. The Real Doctor Will See You Shortly is one of the most powerful books about a doctor-in-training I have ever read. The author vividly describes the crushing emotional and physical demands a young doctor must face, and he does so with consummate skill and compassion. A marvelous book." —Michael J. Collins, author of Blue Collar, Blue Scrubs

"I'm no doctor—but I am writer—and what I appreciated most about Matt McCarthy's book is the humor and the humanity on every page. Even if you don't know the spleen from the stomach, by the end you will understand the sometimes frightening and sometimes comic reality of a doctor's apprenticeship."  —Jack McCallum, author of Dream Team

"Insightful, fast-paced, and achingly honest, Matt McCarthy's The Real Doctor Will See You Shortly has all the elements of a great story: a flawed hero with lively allies battling frequent, seemingly insurmountable obstacles to reach a laudable goal—becoming a good doctor." —Louise Aronson, author of A History of the Present Illness 
"McCarthy's story is one of transformation…his growth will seem familiar to everyone traveling a path of self-discovery." —Publishers Weekly
"It's just you and me tonight…and eighteen of the sickest patients in the hospital," medical intern Matt McCarthy's second-year resident adviser told him on his first night as a physician at Columbia Presbyterian Hospital. "These patients should all be dead. Almost every one of them is kept alive by an artificial method. And every day they're going to try to die on us. But we're going to keep them alive." For McCarthy, this task was sobering. Just two weeks out of Harvard Medical School and with only a few days of medicine under his belt, he could recite pages from a journal article on kidney chemistry and coagulation cascades, easy, but he hadn't yet been schooled in the practical business of keeping someone from dying. How do you learn how to save lives in a job where there is no practice?
McCarthy captures the terror and adventure of the first year of medical residency in THE REAL DOCTOR WILL SEE YOU SHORTLY: A Physician's First Year (Crown: April 7, 2015). With wit and candor, McCarthy offers an eye-opening account of the bewilderment, doubt, anxiety, and determination that shape the making of a doctor. And while working in a hospital is serious business, he's able to find the humor in the most pressured of environments—from the bleak existential humor that helps him cope with the commonplace loss and suffering to the zanier, laugh-out-loud moments he shares with his beleaguered colleagues. He vividly renders the amusing cast of characters he encounters along the way, including a desiccated fifth-year surgical resident named Axel, the eccentric second-year resident who gave him that first night's warning (called "Baio" by McCarthy for his resemblance to the Charles in Charge celebrity), and his no-nonsense attending, referred to only as "Dr. Badass."
Blending the tense drama of ER with the screwball comedy of Scrubs, THE REAL DOCTOR WILL SEE YOU SHORTLY wryly comments on the frightening absurdity of the transition from the libraries, laboratories, and lecture halls of med school to the bedside of a patient undergoing cardiac arrest. McCarthy also poignantly attests to the trying emotional rollercoaster that is modern-day medicine—the agony of misinterpreting a subtle but potentially devastating clinical finding, the panic of accidentally putting your own health at risk while caring for an infected patient, the frustrating helplessness of watching a sick patient wait for a heart or an HIV patient refuse medication…and the incomparable thrill of surviving it all to keep just one more patient alive. No other book offers a more humanizing look at the people who spend their lives trying to save ours. After reading THE REAL DOCTOR WILL SEE YOU SHORTLY, you'll never look at your doctor the same.
ABOUT THE AUTHOR: 
MATT MCCARTHY is an assistant professor of medicine at Cornell and a staff physician at Weill Cornell Medical Center. His work has appeared in Sports Illustrated, Slate, The New England Journal of Medicine, and Deadspin, where he writes the Medspin column.
Related Posts:
You Might Also Like