Press Releases
The Matheny Manifesto
A Young Manager's Old School Views On Success in Sports and Life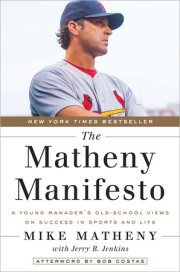 Mike Matheny
Imprint: Crown Archetype
On sale: February 3, 2015
Price: $24.00
Pages: 224
ISBN: 9780553446692
Contact:
Tammy Blake
212-572-2542
tblake@penguinrandomhouse.com
One of the youngest and most unlikely choices to manage a big league baseball club, Mike Matheny was just forty-one and without professional managerial experience when he succeeded the legendary Tony La Russa as manager of the St. Louis Cardinals in 2012, becoming the third youngest in Major League Baseball. Leapfrogging over a cadre of experienced veterans made Matheny controversial from the beginning, yet he has led the Cardinals to the postseason in each of his first three campaigns.
In addition to his success as a big league manager, people have taken notice of something else in Mike Matheny's life, and unlike baseball, its worth isn't measured by day-to-day results. It's all based on a letter he wrote in 2008 to a group of parents of a youth baseball team to lay out his requirements for agreeing to coach their boys. The frankly worded letter, which swept the Internet and would be dubbed "the Matheny Manifesto," began:
Dear Fellow Parents:
I've always said I would coach only a team of orphans. Why? Because the biggest problem in youth sports is the parents.
Over the next five, single-spaced pages, Matheny outlined how he viewed his and the parents' role if they chose him as their team's next youth league coach, offering an old-school approach to coaching the team. The emphasis would be on making the game fun for the kids, while instilling in them his tough-love philosophy, a throwback to generations when a man's word was his bond, authority was respected, discipline and hard work were rewarded, and humility was considered a virtue. His desire was to not only teach them the fundamentals of baseball but to also build character in the boys and teach them life lessons that would last far beyond their baseball experience. Ultimately, for Matheny, who had no hidden agenda, or ulterior motives, it came down to the kids and their teammates having fun loving and learning the game—and to showing how parents, coaches, and the team could work together to achieve that result.
Now in his debut book, THE MATHENY MANIFESTO: A Young Manager's Old-School Views on Success in Sports and Life (Crown Archetype; On-Sale February 3, 2015), written with Jerry B. Jenkins, with an afterword by Bob Costas, Matheny tells the story of how the team came together, grew slowly, learned from failure, and eventually developed into winners on the field and in character. Along the way, he shares stories of his small-town, midwestern childhood, as well as from his career as a player, coach, and manager.
From "The Coach Is Always Right, Even When He's Wrong" and "Respect the Ump—Even If He's Blind" to "Seek Help When You Need It, Express Thanks When You Get It," Matheny's advice—highlighting his keys to success, such as leadership, character, humility, faith, and teamwork—might not always be popular or politically correct, but it works. Matheny now applies these same principles to his job as manager of the St. Louis Cardinals, proving that this same method of leadership works as well for adults as it does for kids.
Offering life lessons that extend far beyond the sports world, THE MATHENY MANIFESTO can teach our next generation life skills they need now more than ever—ones they can apply in the workplace as well as in their homes, families, and communities.
# # #
ABOUT THE AUTHORS:
MIKE MATHENY played thirteen years as a catcher for four Major League teams, won four Gold Gloves, and holds the MLB record for most consecutive games without an error; 2015 will mark his fourth year as manager of the St. Louis Cardinals. Matheny led the Cardinals to the postseason in each of his first three campaigns, winning the National League pennant in 2013. He and his wife, Kristin, are the parents of five and live in St. Louis. For more about Mike's Catch 22 Foundation, and to keep up with his blog, visit www.MikeMatheny.com.
JERRY B. JENKINS is the author of twenty New York Times bestsellers, including the Left Behind series. His writing has appeared in Time, Reader's Digest, Parade, Guideposts, and dozens of Christian periodicals. He has collaborated on as-told-to autobiographies by Hank Aaron, Orel Hershiser, Walter Payton, Nolan Ryan, Mike Singletary, and Billy Graham. For more information about Jerry, visit www.JerryJenkins.com.
Related Posts:
You Might Also Like