Press Releases
MASTERING GOLF'S MENTAL GAME
Your Ultimate Guide to Better On-Course Performance and Lower Scores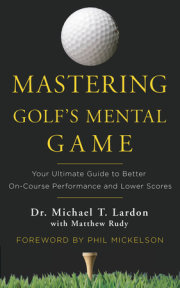 Dr. Michael T. Lardon
Imprint: Crown Archetype
On sale: 9/16/14
Price: $25.00
Pages: 224
ISBN: 9780553417913
Contact:
Rebecca Marsh
212-572-2544
rmarsh@penguinrandomhouse.com
In the summer of 2011, Dr. Michael Lardon was watching Phil Mickelson practice at the Bridges Golf Club in Rancho Santa Fe, California. In conversation, Dr. Lardon mentioned a system he'd been working on, a new technique designed to help players get mentally sharper and perform better. Intrigued, Mickelson tried it out right there, hitting 20 balls toward a pin that was 158 yards away—and sticking 12 of them within a four-foot radius. When he was finished, he said he liked Lardon's "mental scorecard" system. The name stuck, and the technique was a game-changer for Mickelson, helping him to a historic victory in the 2013 British Open.
Now in Dr. Lardon's new book, MASTERING GOLF'S MENTAL GAME: Your Ultimate Guide to Better On-Course Performance and Lower Scores (Crown Archetype; $25.00; On Sale September 16, 2014), the world-renowned peak performance expert is sharing his groundbreaking program for fine-tuning the mental game of golf. Backed by both exhaustive research and real-world success, this step-by-step guide is designed to help players think—and in turn perform—better on the golf course.
Psychologists aren't a new phenomenon in golf, but with his clinical expertise in mood disorders and the science of human performance, Dr. Lardon is a different breed of performance coach. He is a practicing psychiatrist with decades of experience working with world-class athletes, top executives, and soldiers from the most elite units in the U.S. military. A nationally recognized speaker and author, Dr. Lardon has helped sports clients win multiple Olympic medals and major championships in golf, Major League Baseball, the NFL, and mixed martial arts. During his psychiatry residency training, he caddied for his brother, Brad, at PGA Tour qualifying school finals—an adventure John Feinstein famously chronicled in his national bestseller A Good Walk Spoiled.
In MASTERING GOLF'S MENTAL GAME, Dr. Lardon shares strategies to help players channel thoughts and emotions in productive ways—a stark contrast to most mental game instruction, which challenges players to turn their emotions off. Instead of sending his players into a losing battle against emotion, indecision, and fear on the golf course, Lardon shows them how to organize their thoughts and use them for maximum performance. His Pre-Shot Pyramid details the mental and physical prerequisites of a good shot in a way that any player can easily understand and copy. An engaging combination of practical application and brain science, MASTERING GOLF'S MENTAL GAME is full of inspiring success stories and immersive homework assignments that allow players to track their improvement.
Dr. Lardon has helped hundreds of players to strengthen their mental focus and achieve more favorable results. But the genius of his system is that you don't have to be a pro to learn it or to reap its benefits. Sure to be a classic golf book, MASTERING GOLF'S MENTAL GAME is a transformative guide that changes the way golfers think and play the game.
About the Author
DR. MICHAEL LARDON is a nationally recognized sports psychiatrist, author, and speaker. He holds a psychology degree with honors from Stanford University and a medical degree from the University of Texas. In 1995, he won the Judd Research Award at the University of California, San Diego, for brain research on athletic peak performance. He is an associate clinical professor of medicine at UCSD. He is frequently interviewed by the national media and major sports publications.
Advance Praise for MASTERING GOLF'S MENTAL GAME
 "Doc Lardon's Mental Scorecard is a simple way to incorporate Mike's best strategies into your game. It will help you create a system that allows you to organize and evaluate the way you think on the course and give you a game plan to improve. Give it a try. You'll play with more confidence, which leads to better scores."
—Five-time major champion Phil Mickelson 
"There's something for every golfer to learn in here—concentration, relaxation, routine. Dr. Lardon will help you figure out what you need to focus on to reach your potential."
—Two-time U.S. Open champion Lee Janzen
"To truly improve your game, it happens between the ears. You have to be prepared to get better, and believe in yourself and trust yourself when it actually happens. Mike gives you the foundation to do that."
—PGA champion Rich Beem
"I think the average player is leaving at least four or five shots on the course every day, with the swing he or she has. Mike can help you find those shots. He's going to help you train yourself to use your mind better."
—Former world No. 1 David Duval
"Mastering Golf's Mental Game is a simple, easy-to-follow guide on how to play your best golf using your mind. Follow Dr. Michael Lardon's blueprint and watch your game really improve."
—David Leadbetter, Golf Digest Top 50 teacher
"Mastering Golf's Mental Game is a truly valuable book that gives you the science behind the mystery of the mental game and getting into the Zone. Use Doc Lardon's Mental Scorecard and you'll get the most out of your game and enjoy it more."
—Dr. Joe Parent, author of Zen Golf: Mastering the Mental Game
 "Having two heart transplants and being a professional golfer comes with challenges. Dr. Lardon understood what I was dealing with both inside and outside the ropes, and together we came up with strategies that I still use today—strategies that helped me finish second at the U.S. Open in 2014. A good mental coach can identify your strengths and weaknesses. A great mental coach helps you fix your weaknesses and unleash your greatness. You can find that help here, in Mastering Golf's Mental Game."
—Erik Compton, PGA Tour player and 2014 U.S. Open runner-up
"Great golf is both physical and mental, and Dr. Lardon is one of the few that can help any golfer understand how those pieces work together. The way he explains key concepts makes the application of them in real life clear and straightforward. I encourage any player to dive into Mastering Golf's Mental Game and use it regularly as a guide and workbook. It'll help you get the most out of your game."
—Charles Howell III, PGA Tour winner
Related Posts:
You Might Also Like