Press Releases
THE MASK by Taylor Stevens
New York Times bestselling author Taylor Stevens is back with another heart-stopping thriller starring the incredible chameleon and hunter Vanessa Michael Munroe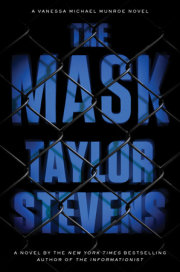 Taylor Stevens
Imprint: Crown Publishers
On sale: June 30, 2015
Price: $24.00
Pages: 352
ISBN: 9780385348966
Contact:
Sarah Breivogel
212-572-2722
sbreivogel@penguinrandomhouse.com
Advance Praise for THE MASK
"Stevens doesn't disappoint, filling the book with nonstop action, deception,
and ramped-up tension." —Booklist
"Stevens sends the gritty, tough, and very deadly Vanessa Michael Munroe to Japan, where she settles a score, piling up bodies in the process." —Kirkus Reviews
When Taylor Stevens published her debut thriller, The Informationist, it was celebrated by some of the best writers in the genre, including Lee Child, Vince Flynn, Michael Palmer, and Tess Gerritsen, was widely covered in the national media, was published in twenty countries, was optioned for film by James Cameron (Titanic, Avatar), and became an instant New York Times bestseller. Reviewers and readers alike were captivated by Stevens's fierce protagonist Vanessa "Michael" Munroe, who has drawn comparisons to Jason Bourne, Lisbeth Salander, Jack Reacher, and James Bond—and the page-turning plot that transported us from the United States and Germany to Equatorial Guinea and France. Her follow-up novels, including The Doll, which won the 2014 Barry Award for best thriller, received critical acclaim and served to solidify her talents.
While readers quickly fell in love with Stevens's fearless heroine, they were also fascinated by the author's own compelling history: Born into the Children of God, Stevens was raised in communes across the globe and denied an education beyond the sixth grade until she escaped in her twenties, leaving everything behind to start over in the United States. Stevens spent some of the worst years of her childhood in Japan. When thinking about the setting for her new novel, THE MASK (Crown, June 30, 2015), she decided to revisit the country to reclaim those memories. In her own words, "I wanted to see that impoverished, begging-on-the-street child's life through the eyes of the adult who had conquered that past." After nearly 25 years, Stevens returned to Japan to research her novel and to visit the places she had been as a young teen—the castles she had spent countless hours panhandling outside of but had never been inside of; the restaurants whose food she'd always longed to taste but never had; the Peace Park in Hiroshima where, even years later, she still knew every turn and every monument.
THE MASK opens withMunroe not on the run pursuing a dangerous criminal, but settled and happy for the first time in her life. Her lover and friend Bradford has asked her to accompany him to Japan to enjoy some time for herself while he handles an easy job (no violence involved), quietly uncovering a corporate spy. Then Bradford is arrested for murder and Munroe soon finds out he has been lying to her. Hurt feelings aside, Munroe pushes forward to pursue the real killer and company mole who may have framed Bradford. With her keen analytical mind and uncanny knack for languages, Munroe will try everything to save Bradford and see if they can salvage their future.
Like Stevens's previous novels, THE MASK is an action-packed adventure that is thrillingly told and full of twists and turns.
ABOUT THE AUTHOR:
TAYLOR STEVENS is the award-winning New York Times bestselling author of The Informationist, The Innocent, The Doll, The Catch, and the novella The Vessel. The series featuring Vanessa Michael Munroe has received critical acclaim and the books are published in twenty languages. The Informationist has been optioned for film by James Cameron's production company, Lightstorm Entertainment. Born in New York State into the Children of God, raised in communes across the globe, and denied an education beyond sixth grade, Stevens was in her twenties when she broke free to follow hope and a vague idea of what possibilities lay beyond. She now lives in Texas.
Related Posts:
You Might Also Like