Press Releases
THE MARTIAN by Andy Weir: The #1 New York Times bestselling phenomenon, soon to be a major motion picture starring MATT DAMON, distributed by Twentieth Century Fox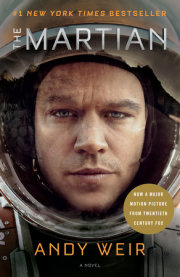 Andy Weir
Imprint: Broadway Books
On sale: August 18, 2015
Price: $15.00
Pages: 384
ISBN: 9781101903582
Contact:
Sarah Breivogel
212-572-2722
sbreivogel@penguinrandomhouse.com
"Brilliant . . . A celebration of human ingenuity [and] the purest example of real-science sci-fi for many years . . . Utterly compelling."—Wall Street Journal
"Terrific stuff, a crackling good read that devotees of space travel will devour like candy . . . Succeeds on several levels and for a variety of reasons, not least of which is its surprising plausibility."—USA Today
"An impressively geeky debut . . . The technical details keep the story relentlessly precise and the suspense ramped up. And really, how can anyone not root for a regular dude to prove the USA still has the Right Stuff?"—Entertainment Weekly

"Andy Weir delivers with The Martian. . . . A story for readers who enjoy thrillers, science fiction, nonfiction, or flat-out adventure [and] an authentic portrayal of the future of space travel."—Associated Press
"[Filled with] more than enough science and technology for the technically literate . . . [The Martian] builds up the kind of narrative tension captured in the Oscar best-picture contender Gravity."—CNN.com

"Gripping . . . [Features] a hero who can solve almost every problem while still being hilarious. It's hard not to be swept up in [Weir's] vision and root for every one of these characters."—AVClub.com
THE MARTIAN (Broadway Books Movie Tie-In edition; on sale August 18, 2015), Andy Weir's brilliant debut novel, is a riveting story of survival against all odds set in space. An instant New York Times, USA Today, and indie bestseller, it is now published in thirty-five languages worldwide. On October 2, 2015, the story will debut on the big screen as a major motion picture distributed by Twentieth Century Fox, directed by Ridley Scott (Alien, Blade Runner, Prometheus), starring Matt Damon, Jessica Chastain, Kate Mara, Kristen Wiig, Jeff Daniels, Michael Peña, Donald Glover, Naomi Scott, Sebastian Stan, Sean Bean, and Chiwetel Ejiofor.
THE MARTIAN tells the story of wisecracking astronaut Mark Watney, a crew member on the third manned mission to Mars. After an epic dust storm threatens the crew's ascent, they are forced to abort the mission. Watney, separated from the rest of the team, is unintentionally abandoned, with the rest of the crew believing him to be dead. Now he's stranded millions of miles from the nearest human being, with no way to even signal Earth that he's alive—and even if he could get word out, his food would be gone years before a rescue mission could arrive. Chances are, though, he won't have time to starve to death. The damaged machinery, unforgiving environment, or plain old "human error" are much more likely to get him first. But Mark isn't ready to give up yet. Drawing on his MacGyver-esque ingenuity, mechanical engineering skills, and a relentless, dogged refusal to quit, he steadfastly confronts one seemingly insurmountable obstacle after the next.
In THE MARTIAN, all of the obstacles Weir's hero confronts, and the solutions he engineers, are entirely believable and science-based thanks in large part to Weir's relentless research and fascination with NASA, orbital mechanics, relativistic physics, astronomy, and the history of manned spaceflight. If we started planning a manned mission to Mars tomorrow, it would look a lot like what's depicted in these pages. Weir even calculated the various orbital paths involved in the story to make the physics of space travel as accurate as possible, which required him to write his own software. THE MARTIAN just might be the most immersive, believable suspense novel you've ever read—a book not just for thriller readers, but for fans of man-versus-nature tales like A Perfect Storm, Shadow Divers, 127 Hours, Apollo 13, Robinson Crusoe, and Castaway.
ABOUT THE AUTHOR: Andy Weir was first hired as a programmer for a national laboratory at age fifteen and has been working as a software engineer ever since. He is also a lifelong space nerd and a devoted hobbyist of subjects such as relativistic physics, orbital mechanics, and the history of manned spaceflight. The Martian is his first novel.
Related Posts: