Press Releases
Martha Stewart's Pressure Cooker by Editors of Martha Stewart Living
100+ Fabulous New Recipes for the Pressure Cooker, Multicooker, and Instant Pot®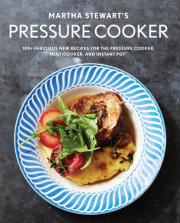 Editors of Martha Stewart Living
Imprint: Clarkson Potter
On sale: August 28 2018
Price: $26.00
Pages: 256
ISBN: 9781524763350
Contact:
Jana Branson
jbranson@penguinrandomhouse.com
When using a pressure cooker, dishes that once seemed like long weekend affairs or too labor intensive for a weeknight are ready in a flash—braised short ribs fall off the bone after only an hour; dried beans from scratch skip the long pre-soaking process; and a creamy, perfectly cooked risotto is ready in six minutes, without constant stirring. Martha Stewart's Pressure Cooker: 100+ Fabulous New Recipes for the Pressure Cooker, Multicooker, and Instant Pot® (Clarkson Potter/Publishers; August 28, 2018; $26.00; paperback) is the essential guide to any type of pressure cooker, with brilliant, effortless recipes that yield maximum flavor and require minimal time.
The recipes in this book are rigorously tested, beautifully photographed, and adaptable, with instructions for both types of pressure cookers (stovetop and electric), including the cult favorite Instant Pot®. Martha Stewart's Pressure Cooker demonstrates the incredible versatility of the appliance: from staples that traditionally require long cooking times (such as whole grains, beans, and stocks) to hearty meals to a chapter devoted solely to desserts.
Chapter and recipe highlights include:
BEANS & LEGUMES: Chickpea Carrot Fritters; Red-Bean Chili with Cashews; Lentil and Arugula Salad
GRAINS: Fried Brown Rice with Shrimp; Freekeh, Cauliflower, and Herb Salad; Farro with Corn, Shishitos, and Cherry Tomatoes
POLENTA: Polenta with Roasted Cherry Tomatoes and Crème Fraîche; Spicy Shrimp and Polenta; Polenta Squares with Asparagus and Poached Eggs
VEGETABLES: Beet Soup with Sour Cream and Dill; Warm Butternut Squash Salad with Pumpkin Seeds; Mashed Broccoli with Kalamata Olives
HEARTY MAINS & SIDES: Turkey Meatballs in Béchamel Sauce; Lamb Shanks with Prunes and Apricots; Saffron Risotto with Clams
SWEETS & EXTRAS: Dark Chocolate Cake; Cinnamon-Caramel Flan; Poached Peaches with Mint
From basics to family feasts, and with foolproof tips and techniques, Martha Stewart's Pressure Cooker is the authoritative resource for both longtime enthusiasts and those new to pressure‐cooking.
Readers will have the opportunity to purchase The Martha Stewart Everything Pressure Cooker, an 8-quart stainless-steel pot that includes 14 programable settings⸺Manual, Slow Cook, Sauté́/Sear, Yogurt, Rice, Multigrain, Meat/Stew, Poultry, Soup/Stock, Steam, Beans/Chili, Cereal, Keep Warm, and Delay. The appliance will be available in select retail locations and online this fall.
ABOUT THE AUTHOR:
MARTHA STEWART is America's most trusted lifestyle expert and teacher and the author of more than 90 books on cooking, entertaining, crafts, homekeeping, gardens, weddings, and decorating.
# # #
MARTHA STEWART'S PRESSURE COOKER
100+ Fabulous New Recipes for the Pressure Cooker,
Multicooker, and Instant Pot®
From the Kitchens of Martha Stewart Living
Clarkson Potter/Publishers
August 28, 2018
ISBN: 978-1-5247-6335-0 • $26.00 • Paperback
Related Posts: