Press Releases
Mark Bittman takes the guesswork out of kitchen improvisation
Mark Bittman's Kitchen Matrix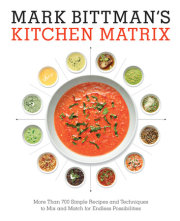 Mark Bittman
Imprint: Clarkson Potter
On sale: 10/27/2015
Price: $35.00
Pages: 304
ISBN: 9780804188012
Contact:
Anna Mintz
212-572-6186
amintz@penguinrandomhouse.com
Mark Bittman's Kitchen Matrix takes the guesswork out of kitchen improvisation with vivid photos and nearly infinite culinary combinations
Praise for Mark Bittman's Kitchen Matrix:
"Bittman continues his winning approach to simplifying recipes for the average home cook in this terrific collection of more than 400 customizable recipes … Readers tired of the same old, same old will find this book to be a godsend, and cooks in search of new ideas are sure to find a few new culinary avenues to explore."
—Publishers Weekly (Starred Review)
"Beautifully photographed and designed … [Mark Bittman's Kitchen Matrix] embraces a bold, fresh way to share recipes."
—Associated Press
"Kitchen Matrix is a somewhat genius concept: take an ingredient or dish, offer a few base recipes, and some basic variations on those recipes. The goal is to get people comfortable going off book with their own cooking, and it's presented in a fun and engaging way. If you like the variations in the How to Cook Everything books—and there are people who think those variations are the best part—here's an entire book of them."
—Epicurious
"Mark Bittman is the master of uncomplicated cooking, and fans will no doubt be familiar with the concept behind his latest cookbook: Learn a handful of basic recipes and with a little creativity, you can prepare a lifetime of satisfying meals."
—Tasting Table
MARK BITTMAN'S
KITCHEN MATRIX
More Than 700 Simple Recipes and Techniques to Mix and Match for Endless Possibilities
Bestselling cookbook author Mark Bittman is known for an approachable cooking style and to-the-point recipes that turn out successfully every time. He now takes that concept to stunning new heights with Mark Bittman's Kitchen Matrix: More Than 700 Simple Recipes and Techniques to Mix and Match for Endless Possibilities (Pam Krauss Books; October 27, 2015; $35.00; Hardcover), a boldly graphic new cookbook that emphasizes creativity, improvisation, and simplicity as the keys to varied cooking, sure to appeal to both the beginner cook looking to get started in the kitchen and also encourage experienced cooks to expand their repertoires.
Here, Bittman's elegantly concise formulas allow readers to mix and match ingredients and techniques so they can easily adapt scores of recipes to suit the season, personal taste, or preferred flavor pairing. Each matrix presents one ingredient or technique served up to 12 ways, showing how a simple alteration of a basic recipe can yield wildly different results. Sample matrices featured in the book include:
APPLES—10 WAYS: Baked with Blue Cheese and Fig; Sautéed with Brussels Sprouts and Sage; Tempura-Fried with Honey; plus seven other ways
BEETS—12 WAYS: Roasted with Moroccan Carrots; Braised with Ham and Beer; Sautéed with Pasta and Brown Butter; plus nine other ways
CLAMS—12 WAYS: Steamed with Chorizo and Tomatoes; Baked with Wasabi Bread Crumbs; Curry-Fried with Cilantro; plus nine other ways
FRUIT DESSERTS—12 WAYS: Apricots in Spiced Red Wine; Strawberry Crisp with Pine-Nut Topping; Blackberry Gratin with Sour Cream; plus nine other ways
PAILLARDS—10 WAYS: Chicken Paillards with Panko and Wasabi-Ginger Pan Sauce; Beef Paillards with Capers and Watercress; Lamb Paillards with Olives, Yogurt, and Mint; plus seven other ways
PASTA PRIMAVERA—8 WAYS: Peas, Pecorino, Chile, and Mint; Carrots, Ricotta, and Ricotta Salata; Butter-Braised Turnips and Sage; plus five other ways
SLAW—8 WAYS: Kohlrabi-Sesame Slaw; Fennel and Celery Slaw with Grapefruit; BBQ Slaw; plus five other ways
Interspersed between these workhorse formulas are ingenious recipe generators that provide unlimited options for devising grain salads, tartares, jams, and vinaigrettes as well as deep dives into foundation recipes like cassoulet or pâte a choux pastry that, once mastered, will yield a lifetime of satisfying cooking. Bittman's stress-free dinner party planner is itself worth the price of admission, with ideas for giving his soup-to-nuts menu a Mediterranean, Asian, or Latin spin.
Whether you like to stick to the script or cook off the cuff, undertake all-day projects or bang out fast weeknight meals, plan a detailed menu or shop first and ask questions later, there is something here for you. With its combination of mouthwatering recipes, eye-catching photos, and bold, instructive graphics, Mark Bittman's Kitchen Matrix shows just how infinitely gratifying cooking can be.
# # #
ABOUT THE AUTHOR:
MARK BITTMAN has had a uniquely successful career in cookbooks and food journalism. He's written 15 books, including the now-classic How to Cook Everything and the bestselling VB6 (Vegan Before 6), which defined a new style of American eating. His 13-year New York Times column "The Minimalist" was among the most popular in the paper, and he just completed a five-year run on the OpEd pages of the Times, where he was the first (and most influential) weekly columnist tackling food issues for a major media outlet.
# # #
MARK BITTMAN'S KITCHEN MATRIX
More Than 700 Simple Recipes and Techniques to Mix and Match for Endless Possibilities
By Mark Bittman
Pam Krauss Books
On Sale October 27, 2015 • $35.00 • Hardcover • ISBN: 9780804188012
Also available as an ebook
www.markbittman.com
Related Posts: