Press Releases
The Marauders by Tom Cooper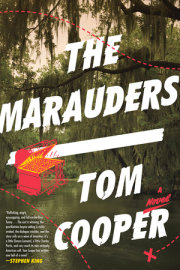 Tom Cooper
Imprint: Crown Publishers
On sale: February 3, 2015
Price: $26.00
Pages: 320
ISBN: 9780804140560
Contact:
Rachel Rokicki
212-782-8455
rrokicki@penguinrandomhouse.com
"The Marauders is so damned good you won't believe it's a first novel . . . and by the time you reach page twenty, you won't care. It's rollicking, angry, eye-popping, and fall-on-the-floor funny, sometimes in the course of a single scene. The cast is winning, the post-Katrina bayou setting is richly evoked, the dialogue crackles, and the story rolls on a wave of invention. It's a little Elmore Leonard, a little Charles Portis, and very much its own uniquely American self. Basically, Tom Cooper has written one hell of a novel."—Stephen King
"This is one hell of a debut novel. Cooper combines the rough-hewn but poetic style favored by writers like Charles Willeford with the kinds of miscreants so beloved by Elmore Leonard, all operating in the tumultuous modern-day disaster that is New Orleans.. With crisp, noir-inspired writing and a firmly believable setting, Cooper has written an engaging homage to classic crime writing that still finds things to say about the desperate days we live through now. Somewhere, Donald E. Westlake, John D. MacDonald and Elmore Leonard are smiling down on this nasty, funny piece of work." —Kirkus Reviews, *Starred* Review
"Cooper offers a believable portrait of a bayou town and a cast of deeply engaging characters wrestling inchoately with the likely extinction of the only life they know. There is real substance and humanity in this fine debut novel."—Booklist, *Starred* Review
"Cooper's novel is a blast; descriptions of the natural beauty of the cypress swamps and waterways, along with the hardscrabble ways of its singular inhabitants, further elevate this story."—Publishers Weekly
"The very best fiction transports us effortlessly to places we've never been and involves us deeply with characters we've never met; and though I've never lived in the Louisiana bayous or shrimped all day with one arm in oil-polluted waters or obsessed over a dead pirate's treasure while chewing up painkillers like candy or been hunted by anyone as sadistic as the Toup brothers, Tom Cooper's brilliant, fast-paced first novel took me there, set me right down in the miserable heat and the mud and the dread, and, though it might sound strange to say, I will be forever grateful to him for that."—Donald Ray Pollock, author of Knockemstiff and The Devil All the Time
"Tom Cooper expertly maps a Gulf Coast of miscreants, romantics, and a severely beleaguered nature, digging at the old, weird South with his own enthralling voice. The Marauders is propelled by wonderful characters depicted with grace, humanity, and that rarest of talents, a truly hilarious wit. Mr. Cooper joins such talents as Twain, Portis, and Toole in mining the humor of the Southern freak show to deliver the universal news of the human heart."—Nic Pizzolatto, creator of HBO's True Detective and author of Galveston
"The Marauders is a novel so compelling, so unsettling, so scary and hilarious that you won't be able to put it down. You might as well pour yourself a drink and settle into your comfy chair. Set in Louisiana's Barataria swamp after the ecological disaster that was the BP oil spill, the novel chronicles the end of a way of life for Gulf shrimpers and explores a muddy world of greed, grit, and gumbo. Tom Cooper is an eloquent new voice in the extraordinary world of Southern fiction. And, trust me on this, the spectral and relentless Toup brothers will haunt your dreams."—John Dufresne, bestselling author of Louisiana Power & Light
"This is rare for me, very rare, that I was utterly unable, because of a novel, to get up from a chair and answer the phone when it rang or eat when I was hungry or go to bed when I was weary. Rare, but this book has left me hungry and sleepy and neglectful of somebody I hope will call back. That his book is smart and funny and dazzling in its prose is obvious. He also can tell a hell of a story. Tom Cooper is a newly minted American literary treasure."—Robert Olen Butler, Pulitzer Prize winner of A Good Scent from a Strange Mountain
"Tom Cooper has written a first novel with sustained top-drawer prose, and that is a beautiful and uncommon thing."—Pete Dexter, National Book Award–winning author of Paris Trout
"The Marauders, Tom Cooper's beautifully written chronicle of the misadventures of the denizens of a dying Louisiana fishing village, pleases in so many ways. It's funny, sad, and wise, sometimes in the same sentence. An outstanding debut."—Richard Lange, author of Angel Baby and This Wicked World
---
THE MARAUDERS (Crown; February 3, 2015), set in a small bayou town devastated by the BP oil spill, is a darkly hilarious debut novel from Tom Cooper. Cooper's stories, published in dozens of literary magazines and journals (most recently in Oxford American, Mid-American Review, Gulf Coast, Boulevard, and Willow Springs),have been nominated four times for the Pushcart Prize. Cooper, who arrived in Louisiana in 2010 immediately after the BP oil spill, taught at a small state school out in the bayou, where most of his students were either the sons or daughters of shrimpers or from families who worked for Big Oil. Watching firsthand how this disaster shocked and stunned this community, he was moved to write this book. He also knew he wanted to set the story in Barataria Bay, where the famous French pirate Jean Lafitte marauded in the early nineteenth century and whose treasure is, to this day, still supposedly buried.
THE MARAUDERS opens with the BP oil spill, which throws the local shrimpers in dire straits. For the inhabitants of the sleepy, working-class bayou town of Jeannette, the disaster sends them scrambling to reverse their fortunes. At the center of THE MARAUDERS is Gus Lindquist, an out-of-work, pill-addicted, one-armed treasure hunter obsessed with finding the lost treasure of pirate Jean Lafitte. During his metal-detecting in the swamps and islands of the Gulf, he encounters a motley crew of characters also searching for treasure, or their version of it: Cosgrove and Hanson, a couple of small-time criminal potheads trying to capitalize on the oil spill; Brady Grimes, a smooth-talking emissary for the oil company out to bamboozle even his own mother; the drug-smuggling, psychopathic Toup twins—Reginald and Victor—who will resort to anything, even murder, to hide their secret; and Wes Trench, a young shrimper who, still grieving the loss of his mother after Katrina, is now estranged from his father and torn between family obligation and his desire for a better life.
Like all great crime novels, THE MARAUDERS grabs you from the start and keeps you hooked until the final page. It's sure to appeal not only to readers of Carl Hiaasen and Elmore Leonard, but aficionados of Cormac McCarthy, Larry Brown, and Charles Portis with its vivid, masterfully crafted prose and well-etched characters. Not since Karen Russell's Swamplandia! has someone written of the swamps and its denizens with this sort of beauty and insight.
ABOUT THE AUTHOR:TOM COOPER was born in Ft. Lauderdale, Florida, and has lived all over the South. He currently lives in New Orleans, where he writes, teaches, and treasure hunts.
Related Posts:
You Might Also Like