Press Releases
THE MAPMAKER'S CHILDREN by Sarah McCoy
The New York Times bestselling author of The Baker's Daughter returns with an exquisite story of secrets, love, and legacy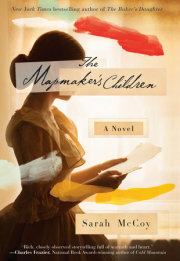 Sarah McCoy
Imprint: Crown Publishers
On sale: May 5, 2015
Price: $25.00
Pages: 320
ISBN: 9780385348904
Contact:
Sarah Breivogel
212-572-2722
sbreivogel@penguinrandomhouse.com
 Praise for Sarah McCoy and THE MAPMAKER'S CHILDREN:
"The Mapmaker's Children is marked by rich, closely observed storytelling full of warmth and heart."—Charles Frazier, New York Times bestselling author of Cold Mountain
"McCoy deftly intertwines a historical tale with a modern one… lovingly constructed… passionately told… The Mapmaker's Children not only honors the accomplishments of a little-known woman but artfully demonstrates how fate carries us in unexpected directions, no matter how we might try to map out our lives."—Washington Post
"Engaging and emotionally charged . . . Eden's realization that 'what fable and history could agree upon was that everyone was searching for their ever-after, whatever that may be' neatly sums up the novel's heart—it's about the family and the life we create, not always the ones we imagine for ourselves."—Kirkus Reviews
"McCoy carefully juxtaposes the past and the present, highlighting the characters' true introspection, and slowly revealing the unusual similarities in the two women's lives, which lead to a riveting conclusion."—Publishers Weekly
"Linking a contemporary woman named Eden with the daughter of abolitionist John Brown is a provocative idea, and McCoy has the skills to pull off something talk-worthy…"—Library Journal, Hot Book Club Reads for Summer 2015

"I love the way this novel connects the past to the present. At first, these two heroines from different centuries seem to have little in common. But defining moments of bravery and resilience echo across generations for a truly satisfying story."—Laura Moriarty, New York Times bestselling author of The Chaperone
"Poignant and deeply absorbing. McCoy weaves this moving tale of two women finding their way with style and thoughtfulness."—Madeline Miller, New York Times bestselling author of Orange Prize winner The Song of Achilles
"Sarah McCoy has illuminated a forgotten corner of American history with her signature
empathy and spirit."—Mary Doria Russell, New York Times bestselling author of Doc and Epitaph
Have you ever wondered if your decisions could change the course of history? Questioned whether or not bad things happen for a reason? In Sarah McCoy's THE MAPMAKER'S CHILDREN: A Novel (Crown; May 5, 2015), two women's lives are inextricably linked as they struggle through personal conflicts and wade through mysterious secrets. As the chapters alternate between these two commanding female protagonists, the reader must redefine courage, family, and destiny alongside these two remarkable women.
Sarah Brown, the fiercely independent daughter of abolitionist John Brown, is a talented artist in 1860s West Virginia. When Sarah discovers that she cannot bear children, she turns her skills toward helping others and becomes one of the foremost mapmakers for the Underground
Railroad. Taking cues from slave-code quilts, she hides maps within her paintings as the United States moves toward a bloody civil war. Over one hundred and fifty years later, Eden Anderson, a modern-day woman struggling to conceive a child, moves into an old house in West Virginia as a last-ditch effort to save her marriage and start a family. When she stumbles across part of an old porcelain doll in the root cellar, Eden slowly uncovers a dramatic connection to the Underground Railroad.
McCoy (whose novel The Baker's Daughter was a nominee for the 2012 Goodreads Choice Award for Best Historical Fiction) spent three years researching the Brown family history. This research became the basis for her inventive narrative, one in which McCoy honorably portrays the spirit of the real Sarah Brown and imagines her ties to the fictional Eden. Skillfully plotted and magnificently transporting, THE MAPMAKER'S CHILDREN highlights the power of community and legacy, illustrating the ways in which history and destiny are interconnected on one enormous, intricate map.
ABOUT THE AUTHOR:
SARAH MCCOY is the New York Times bestselling author of The Baker's Daughter and The Time It Snowed in Puerto Rico. Her work has been featured in Real Simple, The Millions, Your Health Monthly, Huffington Post, and other publications. She calls Virginia home but presently lives with her husband and their dog, Gilbert, in El Paso, Texas.
Related Posts:
You Might Also Like