Press Releases
THE MAN WHO INVENTED CHRISTMAS by Les Standiford
Now a Major Motion Picture Starring Dan Stevens as Charles Dickens and Christopher Plummer as Ebenezer Scrooge In U.S. Theaters November 22nd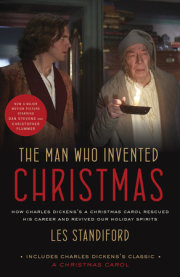 Les Standiford
Imprint: Broadway Books
On sale: September 19, 2017
Price: $17.00
Pages: 352
ISBN: 9781524762469
Contact:
Christine Johnston
212-572-6067
chjohnston@penguinrandomhouse.com
In his celebrated work, THE MAN WHO INVENTED CHRISTMAS, historian and novelist Les Standiford vividly chronicles the little-known tale of how Charles Dickens came to write A Christmas Carol and the surprising impact its publication would have on both British and American culture. The story he unearthed—of a man who overcame daunting odds and re-invented the Christmas holiday—is coming to U.S. theaters on November 22, 2017 in a feature film starring Dan Stevens as Charles Dickens, Christopher Plummer as Ebenezer Scrooge, and Jonathan Pryce as Dickens's father. On September 19, 2017, Broadway Books will release a special movie tie-in edition of THE MAN WHO INVENTED CHRISTMAS that includes the full version of Dickens's original A Christmas Carol and key art from the film.
The story of THE MAN WHO INVENTED CHRISTMAS begins in late 1843, when Charles Dickens's reputation was in tatters and his bank account was in trouble. Only a few years before, he had been at the peak of his popularity, selling an average of 100,000 copies of each weekly installment of The Old Curiosity Shop, his fourth novel. Yet in 1842, with his sixth novel, Martin Chuzzlewit, as well as an ill-advised and scathing book about his travels in America, Dickens's career took a nosedive. Enraged and embarrassed by his sudden rejection by the reading public, Dickens considered leaving England and giving up fiction entirely. Then, in the autumn of 1843, humbled by his fall from grace and sensitive to the troubles of others, the idea for A Christmas Carol came to him. His publishers saw no potential in this story of Christmas, ghosts, and familial affection and turned it down.
Dickens was undeterred. He decided to publish the book himself and scraped together the funds for a lavish package: a red cloth cover, colored endpapers, and eight engravings by Punch illustrator John Leech. Astonishingly, he managed not only to write and design the book but to have it illustrated, printed, bound, and distributed to stores in six weeks' time. A Christmas Carol went on sale on December 19, 1843, and in a few short days its first print run of six thousand copies was sold out.
The effects of this small book were far-reaching. Before its appearance, Christmas in England and its former colonies was too often a somber holiday of prayer, celebrated with no more than a simple family dinner. The fading of Christmas was the result of a history of extremes: In the Middle Ages, Christmas melded with traditional pagan rituals and became a holiday of shocking excess; in reaction, Christian fundamentalists cracked down, and the celebration of Christmas was actually declared illegal in both Puritan Massachusetts and Cromwell's England. By Dickens's time, the laws had been relaxed, but Christmas had not rebounded.
A Christmas Carol instantly sparked a revival of interest in the holiday and its celebration, inspiring readers to embrace the generous and festive spirit of Cratchit, Tiny Tim, and the transformed Mr. Scrooge. The classic Victorian Christmas we all know and love gained most of its trappings as a direct result of the vast popularity of Dickens's little book: charitable giving to the poor; plum pudding; extended family gatherings; homes decorated with fir, holly, and mistletoe; and on and on. Most obviously, the book created the tradition of serving a turkey for Christmas; until its publication, most families had served a goose. And the book went on to spawn more film adaptations than any other novel in history, becoming, for a time, the most widely read book in English after the Bible.
Standiford's affectionate portrait of the often impetuous Dickens and his literary odyssey opens a window on the nineteenth century and on the struggle between commerce and art, businessman and artist. As uplifting as the tale of Scrooge itself, THE MAN WHO INVENTED CHRISTMAS is a touching human story that will delight readers of biography and the classics, and a fascinating work of social history that uncovers the origins of Christmas as we know it today.
About the Author: Les Standiford is the author of the critically acclaimed Last Train to Paradise, Meet You in Hell, and Washington Burning, as well as several novels. Recipient of the Frank O'Connor Award for Short Fiction, he is Founding Director of the Creative Writing Program at Florida International University in Miami, where he lives with his wife and three children.
Related Posts: