Press Releases
Mamaleh Knows Best by Marjorie Ingall
What Jewish Mothers Do to Raise Successful, Creative, Empathetic, Independent Children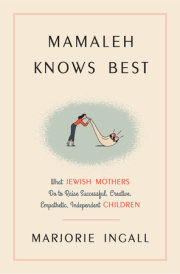 Marjorie Ingall
Imprint: Harmony Books
On sale: August 30, 2016
Price: $25.00
Pages: 256
ISBN: 9780804141413
Contact:
Rebecca Marsh & Maya Lane
212-572-2544 / 212-782-9164
RMarsh@penguinrandomhouse.com / MALane@penguinrandomhouse.com
"What's the difference between a Jewish mother and a Rottweiler? A Rottweiler eventually lets go."
You are likely familiar with the age-old stereotype of the Jewish mother: she's a demanding, overbearing, monstrously narcissistic, guilt-mongering hovercraft. But Tablet Magazine columnist Marjorie Ingall argues that this archetype, while entertaining, isn't based in reality. In her new book, MAMALEH KNOWS BEST: What Jewish Mothers Do to Raise Successful, Creative, Empathetic, Independent Children (Harmony Books; Hardcover; $25.00; On Sale August 30, 2016), Ingall puts the archaic stereotype to bed, cuts through the mishegas, and teaches parents of all faiths (or none) a thing or ten on how to raise a decent human.
Ingall grew up Conservative, attended an Orthodox day school, and married a Reform Jew. She admits to having been a know-it-all and troublemaker as a kid, but credits her Jewish roots in becoming a successful parent. In MAMALEH KNOWS BEST, she contends that contrary to popular belief, Jewish parenting methods are actually in line with modern
research on fostering children's creativity, kindness, and intellect. Which, she points out, is a good reason why Jews constitute over 20 percent of Nobel Prize winners, 21 percent of Ivy League students, 26 percent of Kennedy Center honorees, and 37 percent of Academy Award–winning directors—despite making up less than 1 percent of the world's population.
The ultimate "how to make a mensch" guide, MAMALEH KNOWS BEST offers ten amusing chapters that incorporate personal anecdotes, historical texts, and research from today's leading parenting experts. Ingall starts by debunking the stereotype of the Jewish mother, and then shares Jewish secrets for raising self-sufficient, ethical, kind, and accomplished children. She infuses her advice with humor and chutzpah, offering abundant examples of how Jewish mothers—rather than smothering their children to death—have successfully nurtured their independence, fostered discipline, and stressed the importance of education and a sense of humor. She also argues in favor of instilling a healthy distrust of authority and encourages kids to embrace their own geekiness. Among her many nuggets of wisdom:
Let your kid fail: Provide the tools your kid needs to succeed—books, encouragement, role modeling—then, as Elsa says in Frozen, let it go.
Do not read too many parenting books. (Except this one. This one is cool.): Anyone who tells you there's only one right way to do anything—from raising children to reading for pleasure to chopping an onion—is not to be trusted.
Embrace your own inner nerd: Let your kids see you doing crafts, experimenting for fun with recipes, dancing in the living room to music they find utterly horrifying, taking classes for your own edification.
Remember that education doesn't only happen in school: Talk with kids about the news, culture, sports, and politics. Talk, talk, talk.
MAMALEH KNOWS BEST is an inspiring and insightful look at the best practices of Jewish mothering. Ingall will make you think, she will make you laugh, and she will make you a better parent. To paraphrase the old Levy's rye bread slogan, you don't have to be Jewish to be a Jewish mother.
Related Posts:
You Might Also Like