Press Releases
How to make each Saturday count with renowned pediatrician Harley Rotbart, M.D.
940 Saturdays by Harley A. Rotbart, M.D.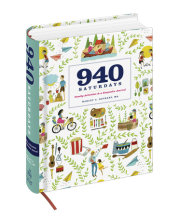 Harley A. Rotbart, M.D.
Imprint: Potter Style
On sale: September 2, 2014
Price: $24.99
Pages: 480
ISBN: 9780804185424
Contact:
Natasha Martin
212-782-8370
namartin@penguinrandomhouse.com
There are 940 Saturdays between a baby's birth and his or her 18th birthday. That is renowned pediatrician Harley Rotbart's clarion call to parents, which was the basis for the New York Times article "Childhood: 940 Saturdays and You're Done." What followed were shock waves of urgency, guilt, and renewed motivation among parents to make the most of every moment of their kids' childhoods.
Now, Dr. Rotbart offers the perfect 2-in-1 solution to make each Saturday count: 940 Saturdays: Family Activities and a Keepsake Journal (Potter Style; $24.99; on sale September 2, 2014). This beautiful hardcover journal, which includes a removable booklet of more than 1,000 age-appropriate activities and a unique guide to kids' developmental milestones, inspires parents to chronicle for posterity the precious moments they spend with their kids.
Rather than providing a step-by-step manual, Rotbart's activities handbook offers ideas that will trigger parents' imagination and propel them to make each Saturday a memorable one. These activities are perfectly catered to every age and stage, with ideas ranging from backyard bug hunts to backwoods treasure maps, from indoor cityscapes to outdoor music walls.
ABOUT THE AUTHOR:
HARLEY A. ROTBART, M.D., is a nationally renowned parenting authority. He has been a pediatrics specialist physician for over 30 years, and is professor and vice chair emeritus of pediatrics at the University of Colorado School of Medicine/Children's Hospital Colorado. He serves on the advisory boards of Parents magazine and Parents.com. Dr. Rotbart writes regularly for the New York Times and Parents magazine, is the author of over 175 medical and scientific publications, and has been named to Best Doctors in America every year since 1996. Reader's Digest named "940 Saturdays" its "Phrase of the Month" for July 2012. Dr. Rotbart lives with his wife in Colorado; they are the parents of three grown children.
Related Posts: