Press Releases
Made in Italy by David Rocco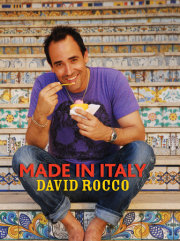 On sale: January 1, 1970
Price: $
ISBN: 9780307889225
Contact:
Nora O'Malley
212-782-8370
nomalley@randomhouse.com
"When you write a cookbook, you put your philosophy and beliefs out there and hope that they resonate with people…In my mind, a cookbook is not a bible. It should be an inspiration. My recipes are simple, and I take pride in the fact that anyone can make them, whether you're a five-star chef or a first-timer.  They don't discriminate…Use your senses. Use as much as you want or need.  This is quanto basta, and it's my philosophy of cooking." —David Rocco, from the Introduction
"Cookbooks can be as much about lifestyle as they are about food, and this stylish volume from the host of the Cooking Channel's travelogue David Rocco's Dolce Vita offers an aspirational glimpse of modern Italian living." –Publishers Weekly
No one knows la dolce vita better than David Rocco, who lives the very best of "the good life."  On his Cooking Channel show, David and his wife, Nina, travel around Italy, introducing audiences to their eclectic friends and people in towns and villages all over the country. From his modern flat in Florence to the lemon groves of the Amalfi coast and everywhere in between, he explores the very best foods of Italy, showing how simple and fresh delicious meals can be. MADE IN ITALY (Clarkson Potter; $35.00; on sale October 18, 2011), David's first cookbook in the United States, unites the beauty and the simple pleasures of the show with dozens of authentic and accessible recipes that truly bring the best of Italy to America's tables.
Home cooks will relish in the simplicity of David's quanto basta (however much you want) attitude. In true Italian fashion, David encourages each reader to take his recipe and make it their own. MADE IN ITALY's authentic and enticing recipes include:
–Antipasti, Insalate, Contorni: Insalata di Pomodori e Melone (Tomato Melon Salad); Insalata di Polpo con Patate e Mais (Cold Octopus Salad with Potatoes and Corn); Finocchio in Padella (Fried Fennel); Gnudi di Zucca e l'Olio Nuovo (Butternut Squash Gnudi with Fresh Olive Oil); Caponata Napoletana (Caponata Naples Style); Involtini di Melanzane e Provola (Rolled Eggplant with Smoked Provolone)
–Pizza: Pizza Patate e Rosmarino (Potato and Rosemary Pizza); Pizza Salsiccia e Scamorza (Sausage and Scamorza Pizza); Calzone Spinaci e Fontina (Spinach and Fontina Calzone); Calzone Mascarpone e Nutella (Mascarpone and Nutella Calzone); Pizza Mele e Gorgonzola (Apple and Gorgonzola Pizza)
–Primi: Zuppa di Zucca e Cozze (Butternut Squash and Mussel Soup); Spaghetti alla Carbonara; Casarecce con Salsiccia (Casarecce with Sausage); Salsa di Cinque Minuti (Five-Minute Sauce); Gnocchi di Porcini con Burro e Salvia (Porcini Gnocchi with Butter and Sage Sauce); Spaghetti alle Vongole (Spaghetti with Clams)
–Secondi: Filetto di Manzo con Riduzione di Vino Rosso (Beef Tenderloin with a Red Wine Reduction); Coniglio con Rosmarino di Emma-Bunny (Emma-Bunny's Rabbid with Rosemary); Spezzatino di Cinghiale (Wild Boar Stew); Polo con Rosmarino e Peperoncino (Chicken with Crispy Rosemary and Chili); Cozze con Aceto di Vino Rosso (Mussels Cooked in Red Wine Vinegar)
–Dolce: Profiteroles al Limone (Lemon Puffs); Pesche Ubriache (Drunken Peaches); Torta all'Olio d'Oliva (Olive Oil Cake); Drunken Chestnuts; Tiramisu al Vin Santo (Lazy Man's Tiramisu) 
MADE IN ITALY is so much more than a collection of Italian recipes—it is a book that you'll want to cook from every day and read cover to cover. From the stunning photographs to David's thoughtful commentary on various people and regions he encountered while writing the book, it is impossible not to be swept up in his genuine love for the Italian way of cooking, which is truly a way of life.
# # #
DAVID ROCCO is the co-creator, executive producer, and host of Cooking Channel's David Rocco's Dolce Vita, which is seen in over 150 countries worldwide including the Cooking Channel in the U.S., Food Network and TLN in Canada, BBC Food, Discovery Travel and Leisure.  He has just finished David Rocco's Amalfi Getaway, a 6-part series exploring the food of Italy's Amalfi coast. His first cookbook, David Rocco's Dolce Vita, published by HarperCollins Canada in 2008, became a bestseller and won a Canadian Gourmand award. Visit him at www.davidrocco.com.
Related Posts:
You Might Also Like