Press Releases
Maddie Dawson returns with The Opposite of Maybe
A heartfelt and exceptionally human novel about the best mistakes a person can make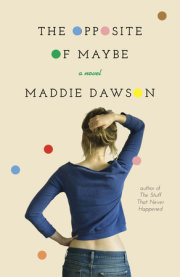 Maddie Dawson
Imprint: Broadway Books
On sale: April 8, 2014
Price: $14.00
Pages: 400
ISBN: 9780770437688
Contact:
Catherine Cullen
212-782-9634
cacullen@randomhouse.com
What if one day you woke up and realized you were living the wrong life—and you had to decide whether to stick with the familiar, or throw everything away and take your chances on the terrifying unknown? Maddie Dawson's THE OPPOSITE OF MAYBE (Broadway Books Original: April 8, 2014) is a funny, heartfelt novel about discovering where you belong—even after you thought you had it figured out years ago.
Rosie and Jonathan have been together so long they finish each other's sentences and agree on nearly everything. As forty-something artists, they love their blissfully unmarried, child-free life. But when Jonathan gets an opportunity to move
cross-country for a new job, their relationship is suddenly fraught with uncertainty. Of course, he wants Rosie to come too, and his unexpected proposal seals the deal. But Rosie is anxious about leaving behind her students, friends, the only home she's ever known, and most of all her increasingly frail eighty-eight-year-old grandmother Soapie, who raised her after her mother died.
The couple decides to take a temporary break as Jonathan moves out West while Rosie moves back into her childhood home to replace Tony, the completely unsuitable caregiver Soapie has hired for herself. There Rosie finds herself faced with the ghosts of her childhood, as the irascible, impulsive Soapie mixes Bloody Marys with yoga, carries on a love affair with a married man, and neglects her medications.
But it's not until Rosie finds herself pregnant at forty-four and completely unequipped for motherhood that she realizes maybe she has something to learn from this formidable grandmother who is unwaveringly committed to her own happiness. When Rosie learns a long-kept secret about her own mother's death, she must decide whether to risk everything for a messy new life full of complications and possible heartbreak—or continue on the steady path with the man she's loved for so long.
THE OPPOSITE OF MAYBE is true to life in the best way possible: a poignant, sweet, and often laugh-out-loud look at the mistakes we make when we think we already know what life has in store for us. Rosie's journey shows how even in the midst of heartbreak, there can be humor and joy and that, after all is said and done, it is never too late to change the story of your life.
ABOUT THE AUTHOR
MADDIE DAWSON is the author of The Stuff That Never Happened. She has written for Working Mother, Redbook, Salon, and Woman's Day, among others. She lives in Connecticut. Visit her online at maddiedawson.com.
Related Posts: