Press Releases
MACBETH by Jo Nesbø
New York Times Bestselling Author Jo Nesbø Retells One of Shakespeare's Darkest and Most Tragic Plays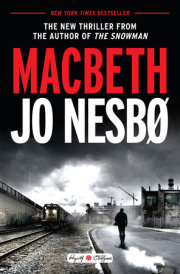 Jo Nesbo
Imprint: Hogarth Shakespeare
On sale: April 10, 2018
Price: $27.00
Pages: 464
ISBN: 9780553419054
Contact:
Rachel Rokicki
212-782-8455
rrokicki@penguinrandomhouse.com
Select Praise for Macbeth
"A clever reengineering of one of Shakespeare's greatest tragedies." —Publishers Weekly
 "The reigning king of Scandinavian noir updates the Scottish play… Reimagining Shakespeare's royal tragedy as just another chapter in the essentially unending struggle of working towns against the familiar tokens of criminal blight… The main takeaway is how remarkably contemporary the most traditional of Shakespeare's great tragedies remains." —Kirkus Reviews
 "Macbeth perfectly pairs a modern master of crime fiction with Shakespeare's bloody tragedy. While retaining most of the original character names from Macbeth, Nesbo masterfully crafts fully fleshed players from each original role to present a visceral, contemporary exploration of ambition and corruption." —Bookpage
The Hogarth Shakespeare series, an international publishing initiative across the Penguin Random House Group, has thus far published six retellings of the Bard's most renowned plays: The Gap of Time by Jeanette Winterson, Shylock Is My Name by Howard Jacobson, Vinegar Girl by Anne Tyler, Hag-seed by Margaret Atwood, New Boy by Tracy Chevalier, and Dunbar by Edward St. Aubyn.
Now Jo Nesbø brings us MACBETH (Hogarth Shakespeare; April 10, 2018), a breathlessly paced, unputdownable story of love and guilt, political ambition, and the greed for more. In his contemporary retelling of MACBETH, Nesbø brings the gritty, powerful procedural gusto that made him an international and major New York Times bestseller to William Shakespeare's most timeless tragedy.
Set in the 1970s in a run-down, gloomy industrial town, Nesbø's MACBETH centers on a police force struggling to shed an incessant drug problem. Duncan, chief of police, is idealistic and visionary, a dream to the townspeople but a nightmare for criminals. The drug trade is ruled by two drug lords, one of whom—a master of manipulation named Hecate—has connections with the highest in power, and plans to use them to get his way.
Hecate's plot hinges on steadily, insidiously manipulating Inspector Macbeth: the head of SWAT and a man already susceptible to violent and paranoid tendencies. When Hecate sends a message to Macbeth to tell him that one day he will become the chief of police, Macbeth begins to harbor grand ambitions. And, when Macbeth's love interest, a beautiful casino owner named Lady, hears of Hecate's prophesy, she calculates who stands between Macbeth and the top job and puts pressure on Macbeth to do what needs to be done. What follows is a heart-pounding novel exploring the darkest corners of human nature, and the aspirations of the criminal mind.
About the author: Jo Nesbø is a musician, songwriter, and economist, as well as a writer. His Harry Hole novels include The Snowman, The Leopard, and Phantom, and he is the author of several stand-alone novels, including The Son, as well as the Doctor Proctor series of children's books. He is the recipient of numerous awards, including the Glass Key for best Nordic crime novel.
Related Posts: