Press Releases
Lucky in Love by Eleni N. Gage
Traditions, Customs, and Rituals to Personalize Your Wedding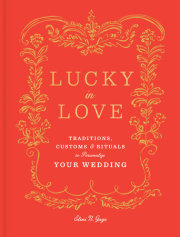 Eleni Gage
Imprint: Clarkson Potter
On sale: December 11 2018
Price: 16.99
Pages: 160
ISBN: 9780525573906
Contact:
Jana Branson
jbranson@penguinrandomhouse.com
A perfect wedding is equal parts planning and magic. While hundreds of books are devoted to guiding the engaged couple through the planning process, Lucky in Love: Traditions, Customs, and Rituals to Personalize Your Wedding (Clarkson Potter; on sale December 11, 2018; $16.99) focuses on the magic. A cross-cultural collection of folklore from all over the world, this unique and essential guidebook covers auspicious traditions that will help couples achieve a meaningful wedding and a lifetime of luck and happiness.
Virtually every culture, religion, and community has devised rituals around weddings that are meant to imbue the marriage with good fortune. Now these often centuries-old customs can inspire new ways for today's couples to celebrate their own unique love. In Lucky in Love, Eleni Gage presents both beloved and little-known traditions with whimsy and depth, imparting ancient wisdom with a modern attitude. An essential resource that is also the perfect thoughtful gift, it will inspire engaged couples to create their own lucky traditions with nods to each other's heritage, customs from places they have visited together, or auspicious rituals that just feel special.
With chapters covering pre-engagement to post-honeymoon, suggestions include:
Consulting an astrologer who will identify a person's lucky gem based on his or her astrological chart and the qualities he or she wants to enhance (creativity, strength, intuition).
Assembling a dessert display that includes bánh xu xê (Vietnamese "conjugal cake") and wanda, Italian bow-shaped fried dough, which symbolizes tying the knot.
Finding a wedding spirit animal, whether it's a species that mates for life or part of a specific cultural tradition. (For example, French angelfish swim side by side all their lives, and spin around each other in a love dance called "carouseling.")
Highlighting a special unity ritual, such as tree-planting, in which each member of the couple takes soil from different containers, perhaps brought from their home countries or childhood backyards, and uses the soil to cover the roots of a sapling.
Organized by phases of the planning process and featuring stunning illustrations, Lucky in Love is the must-have companion for making one's wedding original, meaningful, and lucky.
ABOUT THE AUTHOR
A novelist, journalist, and former executive editor for Martha Stewart Weddings, Eleni N. Gage graduated from Harvard University with a degree in folklore and mythology.
ABOUT THE BOOK
Lucky in Love
Traditions, Customs, and Rituals to Personalize Your Wedding
By Eleni N. Gage
On sale 12/11/2018; $16.99
ISBN 978-0-525-57390-6; hardcover
www.elenigage.com
Related Posts: