Press Releases
The Love Code by Alexander Loyd, PhD, ND
Unlock the Secret to Success in Love, Work, and Life - In Just Forty Days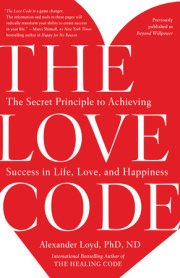 Alexander Loyd, PhD, ND
Imprint: Harmony Books
On sale: May 10, 2015
Price: $16.00
Pages: 288
ISBN: 9781101902837
Contact:
Maya Lane
212-782-9164
MALane@penguinrandomhouse.com
Select Praise for THE LOVE CODE:
 "The Love Code is a game changer! The information and tools in these pages will radically transform your ability to create success in your life."
—Marci Shimoff, #1 New York Times bestselling author of Happy for No Reason, Love for No Reason, and Chicken Soup for the Woman's Soul
"This is a paradigm shift breakthrough, turns most conventional wisdom about how to achieve success on its head, and explains why so many things that have sounded good have failed to produce results over the last fifty years. I, for one, am 'all in'! I plan to live by and teach The Love Code from now on."
—Janet Attwood, New York Times bestselling author of The Passion Test
---
Most self-help programs have a shocking 97 percent failure rate. The standard self-help mantra of tapping in to your willpower and using the power of positive thinking is actually a recipe for failure. Now in THE LOVE CODE: The Secret Principle to Achieving Success in Life, Love, and Happiness, formerly published as Beyond Willpower, (Harmony Books, On Sale: May 10, 2016), bestselling author Alexander  Loyd, Ph.D., N.D.,  reveals the definitive self-help program to help you finally achieve the life you want and the success you deserve.
Science has proven that stress is the primary source of virtually every problem or lack of happiness, whether it be physical, spiritual, emotional, or even circumstantial. People usually set goals for themselves based on external circumstances, which makes them bound to fail due to stress. Loyd believes that we need to understand how fear and love work in our bodies to combat stress.
THE LOVE CODE offers a revolutionary forty-day holistic program based on more than twenty-five years of clinical experience and rooted in science, ancient wisdom, and proven therapeutic techniques to remove personal obstacles that sabotage success.
By using the program, you will define your goals and hone in on what you really want in life—what really characterizes success for you. No matter how you label it—as wealth, career satisfaction, healing of health issues, or resolution of relationship problems—THE LOVE CODE outlines a step-by-step process for achieving that goal once and for all, quickly, and for the long term.
Unique to THE LOVE CODE is the Success Issues Finder test, the only assessment of its kind in the world. The test diagnoses the root causes of all your problems and blocks to achievement, whether they're physical, emotional, spiritual, or even circumstantial. By identifying what's obstructing your path to accomplishment, Loyd helps readers eliminate these roadblocks and set and achieve realistic goals that will truly make them happy.
In THE LOVE CODE Loyd turns the traditional self-help model on its head and reveals a proven program that teaches readers how to obtain success and happiness in their lives once and for all.
Related Posts: