Press Releases
Love That Boy by Ron Fournier
What Two Presidents, Eight Road Trips and My Son Taught Me About A Parent's Expectations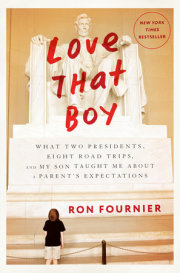 Ron Fournier
Imprint: Harmony Books
On sale: April 12, 2016
Price: $26.00
Pages: 240
ISBN: 9780804140485
Contact:
Lauren Cook
212-782-9486
lcook@penguinrandomhouse.com
A parent's love is unconditional. A parent's satisfaction comes with caveats. This is an important distinction: You love your kids no matter what, but you expect them to be something—smart or popular or successful, maybe a scholarship athlete who marries well and runs the family business.
These expectations often are older than the kids they define… Parenthood is the last chance to be the person we hoped to be. We want to get it right. We want it to be perfect, and that's the problem.
In his book LOVE THAT BOY: What Two Presidents, Eight Road Trips, and My Son Taught Me About a Parent's Expectations (Harmony Books, on sale 4/12/16), award-winning political journalist Ron Fournier writes movingly about the causes and costs of parental expectations in 21st-century America through the lens of his relationship with his son Tyler. He lurches between the two poles of parenthood: what we want for our children—popularity, normalcy, achievement, genius—and what they truly need—grit, empathy, character.
At twelve years old, Ron's son Tyler was diagnosed with Asperger's. His unique wiring and interests made him socially awkward, and it was difficult for Ron to connect with him in the ways he'd done with his own father: through a mutual love of sports. When Tyler is diagnosed, his wife, Lori, insists that Ron bond with his son and help Tyler develop social skills by taking a series of road trips together to the libraries and homes of former presidents. (Tyler shares a deep interest and love of presidential history.) Along the way, Tyler attends a White House Christmas party, where he shakes hands with President Obama and gets a hug from Michelle; Tyler also gets the courage to meet privately with Presidents Bill Clinton and George W. Bush and talk with them at length. Ron calls them "guilt trips." Father and son also visit the libraries and homes of Presidents Adams, Ford, Jefferson, Kennedy, and Theodore Roosevelt.
Their journey turns the spotlight on all parents, urging us to do as Ron ultimately does: learn to love our children for who they are, not who we wish them to be.  LOVE THAT BOY is a deeply personal and honest look at the universal pitfalls of modern parenting.

###
ABOUT THE AUTHOR: RON FOURNIER is the senior political columnist for The Atlantic and  National Journal, and a frequent contributor on politically themed TV shows, including NBC's Meet the Press, CBS's Face the Nation, FOX News's Special Report, and MSNBC's Morning Joe. He began his family and career in Arkansas, covering then governor Bill Clinton before moving to Washington in 1993, where he reported on politics and the presidency during the administrations of Clinton, George W. Bush, and Barack Obama. Fournier also served as a fellow at the Harvard Institute of Politics, where he cowrote the New York Times bestseller Applebee's America. He holds the Society of Professional Journalists' Sigma Delta Chi Award for coverage of the 2000 elections, and he is a four-time winner of the prestigious White House Correspondents' Association Merriman Smith Memorial Award.
Related Posts: