Press Releases
The Lost Night by Andrea Bartz
A Novel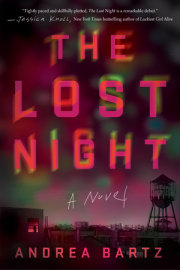 Andrea Bartz
Imprint: Crown
On sale: 2/26/2019
Price: $27.00
Pages: 320
ISBN: 9780525574712
Contact:
Sarah Breivogel
212-572-2722
sbreivogel@penguinrandomhouse.com

**Optioned by Cartel Entertainment for development as a limited series, with Mila Kunis' Orchard Farm set to produce**
**A Los Angeles Times Bestseller*
Advance praise for THE LOST NIGHT: 
"A twisty, tightly plotted thriller set among the hipsters of Brooklyn." —Refinery29
"Poised to be one of the most talked about books of the winter." —Bustle
"The Lost Night has some of the best plot twists you'll read all year long." —HelloGiggles
"If you liked The Girl On The Train, you'll love The Lost Night." —Betches
"Thriller fans are going to love The Lost Night." —RealSimple (The Best Books of 2019)
"A fun, page-turning read that reads like HBO's Girls meets Girl on the Train." —MindBodyGreen
"THE DETAILS ARE HAZY. SO IS THE TRUTH."
How well do we really know our closest friends? And how far will people go to protect their own dark secrets? These are the questions journalist Andrea Bartz explores in her twisty debut novel, THE LOST NIGHT: A Novel (Crown, on-sale February 26, 2019).
Lindsay Bach is content with her life. She has a solid job at a glossy men's magazine, devoted best friends, and her own cozy apartment. She's certainly come a long way from her postgrad life in circa-2009 Brooklyn, when she and a group of twenty-somethings gathered nightly at a Bushwick loft complex to indulge in cheap whiskey, endless Pabst Blue Ribbon, and whatever deafening concerts and parties pounded through the building. And Lindsay has long since moved on from the horrible event that brought the era to an abrupt end: the night when Edie, the group's mercurial, seductive ringleader, was found in her apartment with a suicide note on her computer and a bullet in her head.
Back then, an overwhelming mix of grief, shock, and long-standing resentment forced the group to scatter, and Lindsay grew up and moved on. Everything changes when, a decade after Edie's untimely death, Lindsay discovers an unsettling video that forces her to ask if Edie was actually murdered—and, worse, if Lindsay herself was unwittingly involved. As she rifles through those months in 2009—combing through case files, old technology, and her fractured memory—Lindsay is forced to confront the demons of her own violent history to bring the truth to light.
THE LOST NIGHT, a literary mystery reminiscent of works by Megan Abbott and Jessica Knoll (who calls the novel "tightly paced and skillfully plotted"), explores themes of friendship, identity, and obsession inside the eerie, close-knit, closed-door world of deep-recession Bushwick. For inspiration, Bartz, coauthor of the blog-turned-book Stuff Hipsters Hate (2010),
looked no further than her own experience as a postgrad: partying and dating and hating and loving her way through Brooklyn's late-naughts hipster scene. Bartz, whose work has appeared in The Wall Street Journal, Vogue, Marie Claire, Cosmopolitan, Men's Health, Harper's Bazaar, and many other publications, homed in on how McKibbin Lofts, then a legendary dorm for young artsy types, might play out as the site of a mysterious death.
In THE LOST NIGHT, Bartz delves into the complex tangle of relationships and love and brilliantly captures that moment of being young in a big city—when you're on your own for the first time, when drama-riddled friendships seem crucial and everlasting, and when you feel…invincible. Filled with suspense that will keep the pages turning, THE LOST NIGHT is "a riveting debut" (Booklist, starred review) that introduces Bartz as a writer to watch.
# # #
About the Author:
Andrea Bartz is a journalist and essayist. Previously, she was a senior editor at Glamour, Fit Pregnancy, Psychology Today, and other magazines. She grew up in the suburbs of Milwaukee and graduated from Northwestern University's school of journalism, and in 2010, she coauthored the blog and book Stuff Hipsters Hate. She lives in Brooklyn. Her second novel, The Herd, will be published in 2020.
THE LOST NIGHT: A Novel
by Andrea Bartz
Crown • On-Sale: February 26, 2019 • Price: $27.00 • Pages: 336
ISBN 978-0-525-57471-2
Also available as an ebook and on audio
Visit crownpublishing.com or andreabartz.com
You can find the author on Twitter and Instagram @andibartz
Related Posts: