Press Releases
Lost You by Haylen Beck
A Novel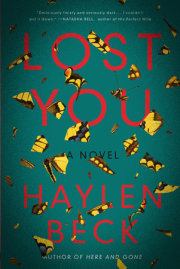 Haylen Beck
Imprint: Crown
On sale: August 6, 2019
Price: $26.00
Pages: 320
ISBN: 9781524759582
Contact:
Sarah Breivogel
212-572-2722
sbreivogel@penguinrandomhouse.com
A provocative work of psychological suspense about two women locked in a desperate fight over a child each believes is rightfully hers
"[A] dark, twisty thriller that tackles the complications of surrogacy." —USA Today

"The twists and turns are not only masterfully paced and layered, but so is the emotional impact…An adrenaline-pumping, anxiety-inducing thriller built around a core so sentimental it just might make you cry." —Kirkus Reviews (Starred Review)
"Beck tells a richly complicated story about two desperate women and the reality of surrogacy in America." —Publishers Weekly
"The absorbing narrative [that follows] spins a heart-wrenching web of desperation, surrogacy, mistaken identity, and murder . . . Recommend to fans of Tana French, Allison Brennan, and Hallie Ephron."—Booklist
"LOST YOU is both utterly compelling and completely terrifying—the kind of book that, every time you think you have it figured out, Beck hits you with another twist you didn't see coming."—Rob Hart, author The Warehouse
When Haylen Beck's first novel Here and Gone – a compelling, thriller about a mother's desperate fight to recover her stolen children from corrupt authorities – published in 2017 it received critical acclaim from the Associated Press and Oprah.com, starred reviews in Booklist and Library Journal, as well as glowing endorsements from Lee Child ("breathless suspense"), Ruth Ware ("a nail-biter"), and Harlan Coben ("unforgettable").
In his captivating new novel, LOST YOU (Crown, August 6, 2019), Haylen Beck, who also writes as Stuart Neville—the acclaimed Edgar award–nominated and Los Angeles Times Book Prize winning author, pulls readers into a provocative tale of stolen identity, of surrogacy gone horribly wrong, and of two women, whose insistence that each is the real mother of a young child puts them at deadly cross-purposes.
Libby needs a break. Three years ago, her husband left, leaving her to raise their infant son, Ethan, alone, as she struggled to launch her writing career. Now for the first time in years, things are looking up. She's just sold her first novel, and she and Ethan are going on a much-needed vacation to sun-soaked Florida. Everything seems to be going their way, so why can't she stop looking over her shoulder or panicking every time Ethan wanders out of view? Is it because of what happened when Ethan was born? Except Libby's never told anyone the full story of what happened, and there's no way anyone could find her and Ethan at a faraway resort . . . right?
However, three days into their vacation, Libby's fears prove justified. In a moment of inattention, Ethan wanders into an elevator before Libby can reach him. When the elevator stops and the doors open, Ethan is gone. Hotel security scours the building and finds no trace of him, but when video footage is found of an adult discovering the child wandering alone and leading him away by the hand, the police are called in. The search intensifies, a lost child case turning into a possible abduction. Hours later, a child is seen with a woman stepping through an emergency exit. Libby and the police track the woman down and corner her, but she refuses to release Ethan. Asked who she is, the woman replies, "I'm his mother."
The best psychological suspense touches a nerve that gets people talking, and that is absolutely true of LOST YOU. The book is a shocking, twist-filled and powerfully addictive story that gets to the heart of what it means to be a mother.
# # # # #
About the Author:
Haylen Beck is the pseudonym of acclaimed, Edgar Award-nominated author Stuart Neville, whose crime fiction has won the Los Angeles Times Book Prize and made best-of-year lists with numerous publications, including the New York Times, the Los Angeles Times, and the Boston Globe. His first Haylen Beck novel was Here and Gone.
LOST YOU: A Novel
by Haylen Beck
Crown• On Sale: August 6, 2019 • Price: $26.00 • Pages: 320
ISBN: 9781524759582
Also available as an ebook and on audio
Visit crownpublishing.com or http://www.haylenbeck.com/
You can find the author on Twitter @HaylenBeck
Related Posts: