Press Releases
The Lost Art of Good Conversation by Sakyong Mipham
A Mindful way to Connect with Others and Enrich Everyday Life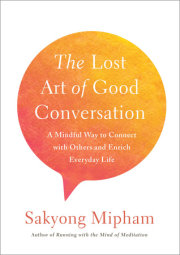 Sakyong Mipham
Imprint: Harmony Books
On sale: October 17, 2017
Price: $19.99
Pages: 240
ISBN: 9780451499431
Contact:
Maya Lane
212-782-9164
malane@penguinrandomhouse.com
Internationally revered Tibetan spiritual leader and bestselling author Sakyong Mipham offers insight on how to cut through the white noise of our digital era, increase our attention spans, and form stronger bonds with the people around us.
Not downplaying the importance of technology, the Sakyong reminds us that every action has an equal and opposite reaction; in this case, the result is disconnectedness, which he cautions is becoming more and more prevalent. To put it simply: the more time we spend plugged in, the less engaged we are with the world and relationships around us, which cripples necessary communication skills, mindfulness, and our attention span. The internet, cell phones, social media. The world is at our fingertips. How then is it possible that we often feel disconnected from our colleagues, friends, and family? In his new book, THE LOST ART OF GOOD CONVERSATION (Harmony Books; $19.99; on-sale 10/17/17), Sakyong Mipham, the head of the Shambhala Buddhist lineage, makes sense of this paradoxical phenomenon and offers us simple but profound ways to mindfully reconnect with the world around us.
THE LOST ART OF GOOD CONVERSATION is an easy-to-follow and inspiring guide drawn from a lifetime of Tibetan spiritual practices. The Sakyong applies the principles of the Shambhala tradition, such as meditation, wisdom, compassion, and courage, to help redirect us to become better listeners, form stronger bonds, and use better judgement. The lessons are presented as a series of stand-alone chapters in which the Sakyong first explores how we can reconnect to the feeling of basic goodness in our lives, then tackles specific fundamentals of having a good conversation, such as:
Leaping into a conversation with bravery: Appropriate ways to properly acknowledge and initiate   conversation in any situation
Knowing your audience: Tips on how to find common ground with any conversation partner, whether that be a stranger, a best friend, or someone you may not always see eye to eye with
Best posture and dress practices: Best practices on how to be mindful of nonverbal cues, such as      physical space, body language, and even clothing
Conversation etiquette: Ways to mindfully eliminate jargon, insults, slang, gossip, and complaints from your everyday communication
Choosing a topic: Prompts to help build and refine a broader conversational palate
Ending on a high note: "Ending a conversation well plants the seed for a clean new beginning next time we see someone." Advice on how to gracefully end a conversation and foster new relationships
Concluding each chapter with a reflection, THE LOST ART OF GOOD CONVERSATION helps readers easily implement these practices into their daily lives and journey back to the basics, reminding us that face-to-face interaction is essential to the human experience and our future.
Related Posts: