Press Releases
Lori Duron's Raising My Rainbow explores the joys and challenges of raising a gender-creative child
A poignant, heartbreaking, and laugh-out-loud funny memoir with foreword by Neil Patrick Harris and David Burtka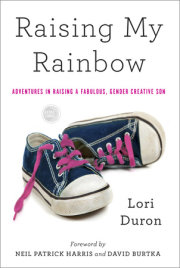 Lori Duron
Imprint: Broadway Books
On sale: September 3, 2013
Price: $15.00
Pages: 288
ISBN: 9780770437725
Contact:
Sarah Breivogel
212-572-2722
sbreivogel@randomhouse.com
Select Praise for Raising My Rainbow:
 "A powerful book at the right time." —Andy Cohen, author of Most Talkative

"Lori Duron, a writer of extraordinary generosity, has given us a guide to parenthood both gentle and revolutionary. Raising My Rainbow is a valuable resource not only for parents of gender-nonconforming children, but for readers everywhere who seek the courage to stand up for the ones they love. 
Fierce, wise, and illuminating." 
—Jennifer Finney Boylan, author of She's Not There and Stuck in the Middle with You
 
"Because of Lori's courage, there is now an answer when searching for how to parent a child who is gender fluid, gender nonconforming, transgender, gay, or whatever label you use. This book is a wonderfully authentic read that will bring depth, joy, and understanding to parents, extended families, and anyone seeking to learn how parents can and do love gender-creative children. To acceptance!"
—Cheryl Kilodavis, author of My Princess Boy

"[A]n optimistic and delightful memoir… Duron's call for compassion should be heeded by educators, caregivers, and neighbors—an open heart, a desire to listen and learn, and a willingness to accommodate go a long way in doing well by someone who differs from your expectations."
—Publishers Weekly, starred review
 
"Laugh-out-loud funny, tug-at-the-heartstrings moving, and thoroughly thought provoking, Raising My Rainbow is a must-read for anyone who has ever worried that their child—or a child that they know—might be perceived as 'different from' or 'other than.'"
—Jody M. Huckaby, executive director of PFLAG National 
When Lori Duron was pregnant and found out her second child was going to be another boy, she cried. She thought she'd never get the chance to teach a child how to braid hair, tap dance, or plan a Barbie-themed birthday party. Her tears, it turned out, were unwarranted. While her first son, Chase, is a Lego-loving, sports-playing "boy's boy," her younger son, C.J., would much rather twirl around in a pink tutu with a Disney Princess in each hand while singing Lady Gaga's "Paparazzi." For more than half of his life C.J. hasn't conformed to traditional gender norms. He is gender variant or gender nonconforming, or as C.J. puts it, he's "a boy who only likes girl stuff and wants to be treated like a girl." He floats on the gender variation spectrum from super-macho-masculine on the left all the way to super-girly-feminine on the right. He's not all pink and not all blue. He's a muddled mishmash or a rainbow creation, depending on how you look at it. Lori and her family choose the rainbow, though they didn't always see it that way.
Based on her incredibly popular blog of the same name, Raising My Rainbow: Adventures in Raising a Fabulous, Gender Creative Son (Broadway Books; September 3, 2013) by Lori Duron is the first memoir written by a mother that chronicles the daily joys, struggles, and sometimes embarrassments of raising a gender-creative child.
Once it became clear that her little boy was happier shopping in the pink aisles of the toy store and preferred Snow White to Superman for his Halloween costume, Lori decided she and her husband needed to shift their parenting perspective—and also needed help figuring out how to encourage their little boy who liked girl things to stay true to himself, all while protecting him from a world that isn't comfortable challenging gender norms. But Lori soon realized there wasn't information on traditional parenting sites for raising a child like C.J. so she started Raising My Rainbow—a place where she could be the resource she always wanted but couldn't find. Her blog, the first of its kind, quickly gained traction and is now read by more than one million readers in more than 170 countries, has been widely covered in the media, is syndicated on Queerty.com, and is used in gender studies courses at over 35 colleges and universities.
While Lori addresses some of life's more trivial yet still important challenges—like whether or not to ask for the boy toy or girl toy when buying C.J.'s Happy Meal—Raising My Rainbow also bravely speaks to the more serious issues that come with parenting a gender-creative child, including:
• Understanding the differences between sex, gender, and sexuality
• How society's interpretation of gender norms (from the toys we give our children to the colors we think they should be attracted to) affected her and her husband's parenting decisions
• Balancing the needs/safety of one gender-conforming son and one gender-creative son
• Handling the stresses of school: deciding when to tell her son's teachers he is gender-creative, managing bullying, negotiating "rules" for play dates
• Her thoughts on nature versus nurture (If Lori raises a straight son, she will be the first woman in her family to do so. Raising gay boys is her family's version of "normal.")
• How she and her husband deal with the real threats to her family's safety
• Her hopes and concerns for her child's future, especially if her son becomes her daughter
• The stress and anxiety of not knowing how C.J.'s journey will end: Will he leave the LGBTQ community? Will he be gay? Transgender?
From the constant doubting of her parenting decisions to the path to acceptance Lori and her husband took, to the effects that bullying and society's often disapproving eye have had on her family, Raising My Rainbow is both an unforgettable memoir and a timely guide for any parent navigating the often challenging world of raising a truly unique child.
ABOUT THE AUTHOR
Lori Duron is the mother of two and lives with her husband and children in Orange County, California. Duron's blog RaisingMyRainbow.com is the first "Mommy Blog" to chronicle raising a gender-creative child and has had more than one million readers in nearly 170 countries. She and her blog have earned the attention of a variety of media outlets including Anderson Cooper, the BBC, MSNBC, the New York Times, Huffington Post, The Next Family, Bitch magazine, Newsweek, BlogHer, The Mother Company, OC Weekly, Gawker, Babble, and Jezebel. She has been named one of BlogHer's 2011 and 2012 "Voices of the Year" and is one of Ignite Social Media's "100 Women Bloggers You Should be Reading."
Related Posts: