Press Releases
THE LONG RUN: A Memoir of Loss and Life in Motion by Catriona Menzies-Pike
In this stunning new memoir, an unlikely athlete runs her way through grief and finds an untold history of defiant women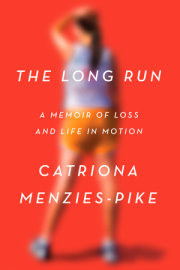 Catriona Menzies-Pike
Imprint: Crown
On sale: May 23, 2017
Price: $25.00
Pages: 256
ISBN: 9781524759445
Contact:
Rebecca Welbourn
212-782-9634
rwelbourn@penguinrandomhouse.com
Praise for THE LONG RUN
"Menzies-Pike's engaging book braids together feminist and literary theory, cultural criticism, history, and a moving personal narrative. . . . Important and fascinating." —Publishers Weekly

"Honest, funny, and moving." —Kirkus Reviews

"Menzies-Pike's entertaining, eye-opening, feminist war cry against those who would begrudge a woman her running shoes is not the most absorbing element in her book. Rather, her own story of loss, a fall from grace, and the sport that ultimately empowered her to deal with her grief is the star of the show. With trademark Aussie wit, Menzies-Pike bravely shares her most vulnerable moments, struggles, and victories as she takes her first steps—crawling, then walking, then running—into her new life." —Booklist
"This engaging memoir navigates the complexities, misconceptions, and the oppression of female runners in film, literature, and art throughout history. It will leave an impression on women and runners alike." —Library Journal
"In The Long Run, Catriona Menzies-Pike illuminates one of running's great contradictions: incredible restoration found through repeated breakdown. Drawing on her own journey from grieving daughter to confident racer, as well as the experiences of female pioneers who paved the way, The Long Run offers a convincing nudge for all of us to get out there and let the open roads work their magic." —Becky Wade, professional marathoner and author of Run the World: My 3,500-Mile Journey Through Running Cultures Around the Globe

"Catriona Menzies-Pike's narrative opens up the possibility that we can redefine our world through running. She seamlessly and brilliantly weaves history with her own life in a way that feels both personal and accessible, shedding a unique light on the sport and the women who have pursued it." —Alexi Pappas, creator of Tracktown, essayist, and Olympic athlete

"Running is about so much more than exercise: running is about freedom, healing, introspection, and community. It is about using your soles to search your soul—and this wonderful book captures that feeling so well. Running through these pages with Catriona Menzies-Pike is as rejuvenating as a dash down the trail where your burdens can be, if not left behind, at least carried more easily. This is a book of rebirth, effort, courage, and caring—the qualities few runners expect but the lucky ones find." —Tom Foreman, author of My Year of Running Dangerously

"The Long Run weaves the rewards of a running life with the sport's rich history. An educational, entertaining, and soulful journey through the miles." —Deena Kastor, American record holder and Olympic medalist, marathon
---
With her breathtaking memoir, THE LONG RUN (May 23, 2017, Crown), Catriona Menzies-Pike has crafted a fiercely honest exploration of reckoning with grief through action in the tradition of H Is for Hawk and Wild. After Menzies-Pike's parents died in a plane crash when she was just twenty years old, she was too busy grappling with the task of navigating the world without them to figure out how to grieve. Her twenties were a time of searching—hard drinking, on-and-off relationships, restless travel— anything to avoid confronting the loss at the center of her life. Now in her thirties, Menzies-Pike examines her years of mourning in light of the surprising way she finally found herself able to come to terms: long-distance running.
A wise, irreverent, and deeply literate writer, Menzies-Pike's journalism and essays on feminism, literary culture, and politics have been widely published. She holds a PhD in English literature and has taught literary studies to undergraduates since 2001. THE LONG RUN received national media attention when it was first published in Australia in spring 2016, with the Australian Book Review calling it "enlightening, absorbing, and always intelligent."
In THE LONG RUN, Menzies-Pike considers the ways she's defined herself: voracious reader, pub crawler, feminist, backpacker, and, since her parents' deaths, orphan. "Runner" was nowhere near that list. Yet when she began training for a half marathon on a whim, she found herself an instant convert. She realized that in her grief she had already been preoccupied with endurance, and that running, "a pace suited to the precarious labor of memory," was helping her to countenance the loss of her parents in ways that she had been, for over a decade, running away from.
As Menzies-Pike excavates her own past, she also grows curious about other women drawn to running. What she finds is a history of repression and denial—running was thought to endanger childbearing, and as late as 1967 the organizer of the Boston Marathon tried to drag a woman off the course, telling her to "get the hell out of my race"—but also of incredible courage and achievement. As she brings to life the stories of pioneering athletes and analyzes the figure of the woman runner in pop culture, literature, and myth, she comes to the heart of why she's been running all these years, and the reasons why we are drawn to it in the first place.
Catriona Menzies-Pike is the editor of the Sydney Review of Books. In 2008 she ran her first half marathon, and five marathons and dozens of half marathons later, she's still running.
Related Posts:
You Might Also Like