Press Releases
LOLA by Melissa Scrivner Love
A Stunning Thriller Debut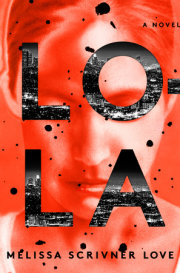 Melissa Scrivner Love
Imprint: Crown
On sale: March 21, 2017
Price: $26.00
Pages: 336
ISBN: 9780451496102
Contact:
Liz Wetzel
212-572-6049
lwetzel@penguinrandomhouse.com
Advance Praise for LOLA
"[A] stunning debut . . . This powerful read is at once an intelligently crafted mystery, a reflection on the cycles of violence and addiction, and a timely meditation on the double standard facing women in authority. Love's writing is artful and evocative, her story's sense of place and culture are strong, and in Lola, Love has created a fully fleshed-out and uniquely compelling antihero who commands fear, respect, and adoration in equal measure."
—Publishers Weekly (starred review)
"Love, a TV screenwriter and the daughter of a police officer, presents her well-drawn characters with a fully fleshed-out portrait of the environment they grew up in and what it takes to survive there. . . . This adrenaline-charged debut will thrill readers as they discover one of crime fiction's most captivating protagonists yet. Lola's resilience and loyalty will have them wanting to see more of the genre's newest heroine and her creator."
—Library Journal (starred review)
"A glorious invention, the Latina daughter of Lisbeth Salander and Walter White, on a lifelong tear of revenge after being pimped by her mother for drugs and then living with the double invisibility of her gender and her race."
—Kirkus Reviews
"Love fleshes out Lola's character to perfection. . . . A gritty, fast-paced thriller rife with gangland intrigue layered over a moving story of absolution."
—Booklist
LOLA (Crown; March 21, 2017) marks the debut of an exciting new thriller writer, and of a singular, magnificent character unlike anyone else in fiction. Melissa Scrivner Love's LOLA combines the genius and ferocity of Stieg Larsson's Lisbeth Salander with the ruthless ambition of Walter White of Breaking Bad in this thriller that grips you to the very last page and leaves you longing for more.
Melissa Scrivner Love was born to a police officer father and a court stenographer mother. Her lifelong immersion in the criminal justice system lends her writing an uncanny sense of realism. After earning a master's degree in English literature from New York University, Melissa moved to Los Angeles, where she has lived and worked for more than a decade. As a television writer, Love has written for shows such as NBC's Life, CBS's CSI: Miami and Person of Interest, and Fox's Rosewood. She earned an Edgar Award nomination for her work on the Person of Interest episode "Terra Incognita." Now, she brings her vivid sense of place and character to the printed page.
Lola plays hostess at a barbecue thrown by her boyfriend, Garcia, leader of the Crenshaw Six, a small but up-and-coming gang in gritty South Central Los Angeles. Lola brings coffee and cookies to El Coleccionista, a midlevel member of the Mexican cartel, who is offering Garcia and his gang a chance to prove themselves to the cartel in hopes of gaining more corners and bigger business. What no one suspects is that Lola is the true leader of the Crenshaw Six and is far more dangerous than she seems. At once a hardened criminal mastermind and a vulnerable woman—fiercely ambitious and utterly devoted to protecting her own—Lola is fascinating, complex, and utterly unique. As the Crenshaw Six is plunged further into a world of high-stakes betrayal and brutal violence, Lola's skills and leadership become their only hope of survival.
Expertly paced, stuffed with naturalistic, yet memorable dialogue, LOLA reads like a master class in thriller writing. Lola is an antihero whom readers will love and fear as they find themselves rooting for one of the bad guys.
About the Author: MELISSA SCRIVNER LOVE earned a master's degree in English literature from New York University. Love has lived in Los Angeles for over a decade. During that time, she has written for several television shows, among them Life, CSI: Miami, Person of Interest, and Rosewood. She and her husband, a comedy writer and Los Angeles native, welcomed their daughter in 2014. Lola is her first novel.
Related Posts:
You Might Also Like