Press Releases
Living with Intent by Mallika Chopra (Afterword by Deepak Chopra, MD)
My Somewhat Messy Journey to Purpose, Peace, and Joy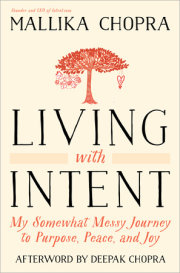 Mallika Chopra
Imprint: Harmony Books
On sale: April 7, 2015
Price: $26.00
Pages: 288
ISBN: 9780804139854
Contact:
Lauren Cook
212-782-9485
lcook@penguinrandomhouse.com
"Whether we know it or not, we matter; today matters. Mallika Chopra shows us all how to live quiet lives of inspiration. Her book and journey are not to be missed."
—Elizabeth Gilbert, bestselling author of Eat, Pray, Love
Mallika Chopra was consistently finding herself overwhelmed with the stress of trying to balance being a mother, wife, and successful entrepreneur. But it was more than being overwhelmed; she felt guilty about not giving each section of her life (her children, her husband, her career) the attention it deserved. Even though she spoke to others about bringing balance into their lives as the CEO of Intent.com—a portal dedicated to sharing and supporting people's intentions—Mallika realized that she had lost her own purpose, balance, and peace.
Being the daughter of famous healer Deepak Chopra doesn't mean you are immune to the chaos, exhaustion, and stress that so many people experience each and every day. But it does mean that when you realize you need help, you can access a world of wisdom. LIVING WITH INTENT: My Somewhat Messy Journey to Purpose, Peace, and Joy (on sale April 7, 2015, Harmony Books) is Mallika Chopra's practical yet deeply personal look at her yearlong journey to discover some workable answers to feeling overwhelmed.
On her path to live a more meaningful life, Chopra sat down with experts, including Andrew Weil, Eckhart Tolle, Marianne Williamson, Daniel Siegel, Ariana Huffington, and Caryl Stern, who's valuable advice and input is gathered in this practical memoir. Each chapter is devoted to one step on her journey and a piece of her INTENT action plan.
INCUBATE: Quiet your mind to tap into your deepest intentions; see where this leads.
For example, set aside a minimum of fifteen minutes for agenda-free time. Choose to listen to a few of your favorite songs, play the piano, dance… whatever brings you joy.
NOTICE: Become mindful of your thoughts and actions and pay attention to what they tell you about what gives you meaning and a sense of purpose—and look for signs that can point you toward your truth.
For example, every night before going to sleep, write down or mentally review three things from the day for which you are grateful.
TRUST: Have confidence in your inner knowing—and in the messages the universe sends you—and allow that knowledge to guide you forward.
For example, the next time you are in a stressful situation, STOP. Stop, Take three breaths, Observe how you are feeling, and then Proceed. Trust your feelings—in your body as well as your mind.
EXPRESS: Write down your intentions; say them out loud; or share them with others to fully embrace them and help you move ahead in your journey.
For example, practice love through your actions for the day. Hug a loved one, call an old friend, thank the cashier at the grocery store, or smile at the garage attendant.
NURTURE: Be gentle with yourself as you try to find your way. Intention isn't always a straightforward path, just like life, and giving yourself opportunities to try—and fail—is often part of, and even crucial to, the process.
For example,call an old friend or family member whom you haven't spoken to in a long time. Reconnect, even if you are embarrassed that it has been too long.
TAKE ACTION: Once you've identified an intent, or even multiple ones, don't sit and wait for it to magically manifest; instead take the practical steps that can make each become a reality. It may be easiest to choose one intent first and set short-term goals to help you get started.
For example,identify a friend who may share a similar intent. Talk to him or her and explore pursing it together.
LIVING WITH INTENT provides a simple road map for how readers can move from thought to action to outcome. It inspires hope in those who feel dissatisfied, encourages those who are eager to discover their own passions, and gives us all the opportunity to support one another in our quest for balance and purpose, connection, and joy.
###
MALLIKA CHOPRA is the successful author of two previous gift books for parents, 100 Promises to My Baby and 100 Questions from My Child. She is a busy mom of two, a successful entrepreneur, and the founder and CEO of Intent.com, a successful social platform for people sharing their intents to lead a happier, healthier, and more meaningful life. Mallika grew up in Lincoln, Massachusetts, and graduated from Brown University and the Kellogg School of Management.
Related Posts: