Press Releases
THE LITTLE FRENCH BISTRO by Nina George
From the New York Times and internationally bestselling author of The Little Paris Bookshop comes an extraordinary new novel that proves it's never too late to change your life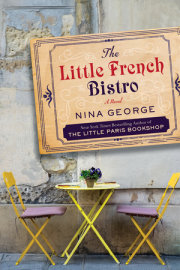 Nina George
Imprint: Crown
On sale: June 13, 2017
Price: $26.00
Pages: 320
ISBN: 9780451495587
Contact:
Rebecca Welbourn
212-782-9634
rwelbourn@penguinrandomhouse.com
Praise for THE LITTLE FRENCH BISTRO
*June LibraryReads Selection*
"[Nina] George's engrossing novel is as much about indulging the senses with succulent dishes and dazzling sights as it is about romance and second chances. With a profound sense of place and sensuous prose, the novel functions as a satisfying virtual visit to the French Riviera. A luscious and uplifting tale of personal redemption in the tradition of Eat, Pray, Love." —Kirkus Reviews
"George envelops the reader in the sights, sounds, and smells of the coastal town, heightening Marianne's new experiences with lush descriptions of Breton life. Fans of Elizabeth Gilbert and Isabel Allende will adore this courageous story of new beginnings, second chances, and the power of self-love." —Booklist
"The author of The Little Paris Bookshop has done it again. The message of this beguiling, second-chance romance—a rich life is possible at any age—will charm readers with its ring of truth." —Library Journal (starred)
Select Praise for THE LITTLE PARIS BOOKSHOP 
New York Times Bestseller
A LibraryReads Favorite of the Favorites
An Indie Bestseller of 2015
Costco's "Pennie's Pick"
"[A] bona fide international hit." —New York Times Book Review
"The settings are ideal for a summer-romance read.…Who can resist floating on a barge through France surrounded by books, wine, love, and great conversation?" —Christian Science Monitor
"If you're looking to be charmed right out of your own life for a few hours, sit down with this wise and winsome novel.…Everything happens just as you want it to…from poignant moments to crystalline insights in exactly the right measure." —Oprah.com
"A story that reflects all the romance and sweetness of Paris itself." —San Francisco Book Review
"The Little Paris Bookshop is an enchantment. The next best thing to booking a trip to France." —Sarah Pekkanen, author of Catching Air
---
Nina George charmed readers across the world with her beloved novel The Little Paris Bookshop, which was a New York Times and indie bestseller in both hardcover and paperback. She now returns with her second novel to be published stateside: THE LITTLE FRENCH BISTRO (June 13, 2017, Crown), a breathtaking novel about new beginnings and self-discovery.
Marianne Messmann is stuck in a loveless, unhappy marriage. Now sixty years old, she feels she has finally reached her limit, and one evening in Paris she decides to take action. But her plans change following a dramatic moment on the banks of the Seine, and Marianne instead sets out for the coast of Brittany—known to locals as "the end of the world."
In the small fishing village of Kerdruc, Marianne meets a cast of eccentric, unforgettable locals who surprise her with their warm welcome and the pleasure they take in life's small moments. She finds work at a hotel restaurant among Geneviève, the enigmatic hotel owner; Jean-Rémy, the lovesick head chef; Laurine, the waitress; and regulars like Simon, a fisherman, and Yann, a landscape artist whose work holds a special meaning for Marianne. "Crazy people had it easy in Brittany," Marianne realizes. "It was the ordinary people who found it tough." Over meals of oysters and mussels, of salted caramel ice cream and butter cake, and during walks through forests and wheat fields, along beaches and "through wildflower meadows on the edge of pink cliffs," Marianne falls more in love with her newfound home every day.
As the parts of herself she had long forgotten return to her in this new world, Marianne learns it's never too late to "seize her life with both hands" and begin the search for what she's wanted all along. As she immerses herself in a world of traditional Breton celebrations and folklore, she gradually comes to realize that not only does she need her new friends to show her that life is worth living, but that they've needed her just as much. But when people from her past start to reappear, Marianne must choose between what she's always known and the possibilities she's just begun to discover in Kerdruc.
With all the buoyant charm that made The Little Paris Bookshop a beloved bestseller, THE LITTLE FRENCH BISTRO is a heartwarming tale of second chances and a delightful embrace of the joys of life in France.
About the author: In addition to The Little Paris Bookshop and THE LITTLE FRENCH BISTRO, Nina George is the author of numerous other books that have been published around the world. She also works as a journalist, writer, and storytelling teacher. She lives with her husband in Berlin, Germany, and Brittany, France.
Related Posts:
You Might Also Like