Press Releases
Where the Light Gets In by Kimberly Williams-Paisley
A tribute to the fragile yet unbreakable bonds we have with our mothers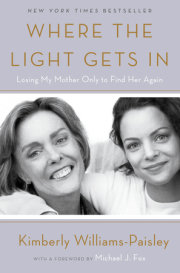 Kimberly Williams-Paisley
Imprint: Crown Archetype
On sale: April 5, 2016
Price: $27.00
Pages: 272
ISBN: 9781101902950
Contact:
Ellen Folan
212.782.8944
efolan@penguinrandomhouse.com
Actress Kimberly Williams-Paisley shares the story of her mother's diagnosis with early-onset dementia in this tribute to the fragile yet unbreakable bonds we have with our mothers.
WHERE THE LIGHT GETS IN
Losing My Mother Only to Find Her Again
By Kimberly Williams-Paisley
"Heartbreaking but never sentimental, Williams-Paisley's book offers an intimate look at a family's struggle with a life-altering disease. It is also a daughter's tribute to the mother whose disease offered her a new opportunity to 'love unconditionally…and practice being comfortable with…[the] uncomfortable.' A simply told, moving memoir."
—KIRKUS REVIEWS
"Kimberly Williams-Paisley has written a book that is both heartbreaking and essential. I loved it for all the love it contained but also for the wealth of practical information. The Williams family went down a hard road with dementia, and we can all benefit from their experience."
—ANN PATCHETT, New York Times bestselling author of Bel Canto and State of Wonder
"The relationship between a mother and daughter is one of the most complicated and meaningful there is. Kimberly Williams-Paisley writes about her own with grace, truth, and beauty as she shares her journey back to her mother in the wake of a devastating illness."
—BROOKE SHIELDS,  New York Times bestselling author of There Was a Little Girl
"Kim's story really resonated with me, as it will with countless others. Her beautiful, heartfelt book is an absolute must-read for mothers, daughters, and anyone dealing with a loved one living with dementia. It will also help to bring comfort to families facing any type of life-altering situation."
—ROBIN ROBERTS, Good Morning America
"Where the Light Gets In is simply wonderful…and sad…and brave. This book will bring comfort to families who are experiencing the complex and confusing journey of progressive dementia while still celebrating moments of true joy. Williams-Paisley's narrative and the resource section will help people know they are not alone."
—ANGELA TIMASHENKA GEIGER, Chief Strategy Officer, Alzheimer's Association
"Where the Light Gets In left an indelible mark on my heart. The story of love and acceptance and the unbreakable bond of family, this book will be a comfort to so many families who are going through what Kim's went through and will be a much-needed source of strength for all those who read it."
—SHERYL CROW, musician
"Generous, human, and healing; that's what this book is. Kimberly Williams-Paisley has invited us into her life and her family so that we may know ourselves better. By sharing her story with such vulnerability and honesty, she makes it accessible to everyone, with or without a personal connection to dementia. Through it, I had the experience of seeing my own family differently, understanding my desire to love more, and connecting deeply to my own stories of illness, grief, compassion, empathy, and redemption."
—CONNIE BRITTON, actress
"Informative, relatable, and heartbreaking, Where the Light Gets In is a must-read for those who have a loved one struggling with dementia."
—SETH MEYERS, host of Late Night with Seth Meyers
"Kimberly Williams-Paisley's experience with her mother's dementia is very moving, and you'll be touched by so much in this book. This topic needs national attention, and Where the Light Gets In helps bring focus to that need."
—WILLIAM SHATNER, actor
"In Where the Light Gets In, Kimberly Williams-Paisley shares the brutal emotional toll that dementia takes on a family, bravely revealing the denial, the missteps, the losses, the grief. Thankfully, she also shares the lessons–how to get comfortable being uncomfortable, how to connect with her mother where she is, how to love unconditionally. Intimate, honest, and beautifully written, this book will be a tremendous resource for anyone affected by dementia."
—LISA GENOVA, New York Times bestselling author of Still Alice
"Kimberly Williams-Paisley's honest and heart-wrenching memoir draws a stark picture of the devastation of dementia on a family and captures the sense of injustice when the parent/child role is reversed far too young. Kimberly shares her story to honor her mother, but she galvanizes us to find a cure for a disease that slowly erases the ones we love most."
—LEE WOODRUFF, journalist and New York Times bestselling co-author of In an Instant
Many know Kimberly Williams-Paisley as the bride in the beloved Steve Martin remakes of the Father of the Bride movies, her many film and television roles, or the wife of country music artist Brad Paisley. But, until recently, Kim was dealing with a tragic secret: her mother, Linda, was suffering from a rare form of dementia that slowly crippled her ability to talk, write, and eventually recognize people in her own family.
Now, with Where the Light Gets In:  Losing My Mother Only to Find Her Again (Crown Archetype, April 5, 2016, Foreword by Michael J. Fox), Kim is sharing the full story of Linda's illness—called primary progressive aphasia—from her mother's early-onset diagnosis at the age of sixty-two to the present day. With honesty and vulnerability, Kim opens up about the ways her family reacted to the disease for better and worse: the heartbreak of long-distance caregiving; how she, her father, and two siblings educated themselves, tried to let go of shame and secrecy, made mistakes, and found unexpected humor and grace in the midst of suffering. Kim writes candidly about so many of the difficult realities of this insidious disease as it erased parts of the woman who raised her, but ultimately how she found healing in learning to reconnect with her mother as the person she'd become while celebrating the person she was.
WHERE THE LIGHT GETS IN proves with a sense of hope and open-hearted faith that light can be found even in the darkest places. It is a heartwarming and heartrending tribute to the often fragile yet unbreakable bonds we have with our mothers.
#     #     #
Kimberly Williams-Paisley is an actress, writer, and advocate for dementia research and caregivers. She and her husband live in Tennessee with their two sons and two dogs. This is her first book.
Related Posts:
You Might Also Like