Press Releases
LIFE OF THE PARTY by Bob Kealing
The Remarkable Story of How Brownie Wise Built, and Lost, a Tupperware Party Empire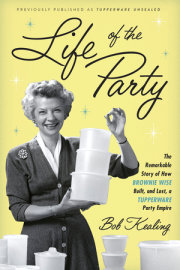 Bob Kealing
Imprint: Crown Archetype
On sale: 7/12/16
Price: $26.00
Pages: 320
ISBN: 9781101903650
Contact:
Rebecca Marsh
212-572-2544
rmarsh@penguinrandomhouse.com
In development at Sony Pictures with Sandra Bullock attached to star, LIFE OF THE PARTY is the incredible story of a Southern single mother who became an American business icon.
"This is the riveting and unaccountably forgotten story of Brownie Wise, the single mom and 1950s Tupperware saleswoman extraordinaire who captivated the heart of everyone in postwar America—everyone, that is, except her boss, Earl Tupper. The drama that ensued is 'must read' business history."
—Tilar J. Mazzeo, New York Times bestselling author of The Widow Clicquot
Before Mary Kay, Martha Stewart, and Joy Mangano, there was Brownie Wise. The charismatic executive who popularized the famous Tupperware party, Wise used postwar optimism to create a record-breaking sales engine powered by American housewives. That is, until she was abruptly fired, and virtually disappeared into obscurity. In LIFE OF THE PARTY: The Remarkable Story of How Brownie Wise Built, and Lost, a Tupperware Party Empire (Crown Archetype; $26.00; On Sale July 12, 2016), award-winning journalist and author Bob Kealing returns Wise to her rightful place in the history of American business, and offers the definitive portrait of this trailblazing entrepreneur.
Originally published in 2008 by the University Press of Florida as Tupperware Unsealed, this revised and updated edition puts Wise's life and career at the forefront; reveals new details, including Wise's on-again, off-again relationship with Adlai Stevenson; and adds an epilogue that analyzes the complicated state of her legacy, and how Tupperware has worked to restore it in recent years. The book has been optioned by Sony Pictures, with Sandra Bullock attached to star and The Help's Tate Taylor to write and direct.
It was 1951: Wise had divorced her alcoholic husband and was raising her son and enjoying a successful sales career when she caught the eye of Earl Tupper, the Tupperware inventor whose plastic containers were collecting dust on shelves. Although Wise and Tupper's personalities often clashed, she had the sales know-how that Tupper desperately needed to change Tupperware's trajectory. Wise became the face of and the force behind the Tupperware party, a master class in the soft sell that drove sales to new heights. These gatherings of suburban housewives became central to Tupperware's growth and popularity, and gave minimally educated and economically invisible postwar women, including African-American women, an acceptable way to make money for their families—and then rewarded them for their efforts. Not only did Wise overcome her own personal and professional setbacks in order to rise to the top, but she also paved the way for more women to become self-starters themselves.
With the people skills of Dale Carnegie, the looks of Doris Day, and the magnetism of Eva Peron, Wise was as popular among her many followers as she was in the press, and she became a household name. She was the chief executive of an international company at a time when only a handful of women made it higher on the corporate ladder than secretary, and in 1954, she became the first woman to appear on the cover of Business Week. Then, at the height of her success, Wise's ascent ended as quickly as it began. Tupper fired Wise under mysterious circumstances, wrote her out of company history, and left her with a pittance while he walked away with a fortune. LIFE OF THE PARTY restores Wise's legacy as an innovative and pioneering businesswoman, and gives her the credit she so richly deserves. It's the story of a groundbreaking business executive, but it's also about a woman who refused the limitations her bosses—and convention—placed upon her.
###
ABOUT THE AUTHOR
Bob Kealing is a four-time Emmy Award-winning journalist based in Orlando with WESH-TV. He has appeared on national television, including NBC, CBS, MSNBC, CNN, and C-SPAN, and is the author of three books. His articles have appeared in magazines and newspapers across the country.
Related Posts:
You Might Also Like