Press Releases
Life, Death, and Redemption In an American Prison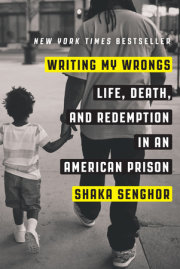 Shaka Senghor
Imprint: Convergent
On sale: 03/08/2016
Price: $26.00
Pages: 288
ISBN: 9781101907290
Contact:
Carisa Hays
212-782-9277
chays@penguinrandomhouse.com
"Gritty, visceral…Senghor writes about the process of atonement and the possibility of redemption, and talks of his efforts to work for prison reforms that might turn a system designed to warehouse into one aimed at rehabilitation."
-Michiko Kakutani, The New York Times
"An extraordinary, unforgettable book. Writing My Wrongs is a necessary reminder of the deep humanity, vulnerability and potential that lies within each one of us, including those we view as 'thugs' or 'criminals'. Shaka's story illustrates that if we muster the courage to love those who do not yet love themselves, a new world is possible."
–Michelle Alexander, professor of law, Ohio State University, bestselling author of The New Jim Crow
"A profound story of neglect, violence, discovery, redemption and inspiration. Consistently touching and surprising, Writing My Wrongs is, ultimately, deeply hopeful. Prepare to have your preconceptions shattered."
–J.J. Abrams, director, writer, producer
"Shaka Senghor is a once-in-a-generation leader, championing a cause that will define a generation: mass incarceration. Behind prison walls, Writing My Wrongs is already taking its place alongside the memoirs of Malcolm X and George Jackson as must-read literature. In the broader society, its publication will propel him into the ranks of Ta-Nehisi Coates and Michelle Alexander—powerful visionaries whose words are shaking the foundations of our nation's understanding of itself."
–Van Jones, CNN contributor, bestselling author of Rebuild the Dream and The Green Collar Economy
"Essential reading for anyone who believes in the deeply spiritual and transformational power of redemption. Our nation must confront this concept to reach our own promise as a country. No matter who you are or where you've come from, this book holds strong, inspiring lessons and shows that the difficult pathway to redemption can bear abundant fruit for many. In the end we are all, no matter our path, more powerful agents of service than we realize."
–U.S. Senator Cory Booker
"If you've wondered what makes it possible for good people to do terrible things, and what a man can endure to reach redemption, then you must read this book. Senghor's story is told with brutal self-assessment and tender attention to what makes profound change – in a person and also in our communities – not only possible but imperative. In this unforgettable memoir, Shaka takes us from the streets of Detroit into solitary confinement in prison, and against all odds, home safely and successfully to a family and community that needs him."
–Piper Kerman, bestselling author of Orange is the New Black
"Delivered with a stark realism that is only occasionally relieved by humor and the bizarre characters [Senghor] encounters…Throughout the book we see Senghor's gradual transformation, a steady growth and political development that is enhanced by the books of Amos Wilson, J.A. Rogers, Chancellor Williams and Maya Angelou. Of course, there's Malcolm's autobiography, and there may come a time when Senghor's book will be embraced with the same regard he has for his mentors."
-Herb Boyd, Amsterdam News
In life, it's not how you start that matters. It's how you finish.
Shaka Senghor was raised in a middle-class neighborhood on Detroit's east side during the peak of the 1980s crack epidemic. Under difficult circumstances at home, Shaka ran away at age 14, turned to drug dealing, and ended up in prison for murder at age 19. WRITING MY WRONGS (Convergent Books, March 8, 2016, $26.00) is his story of what came next.
After pleading guilty to second-degree murder, Shaka was sentenced to 40 years in prison, entering the system at age 19, bitter, angry, and hurt. He blamed everybody, from his parents to the system, and he channeled that anger into violence. He ran a black market store, he loan sharked, and, halfway through his sentence, he was sent to solitary confinement for 4½ years for assaulting an officer to the point of near-death.
A turning point in prison for Shaka occurred when his 10-year-old son wrote a letter to him recognizing the crucial reality for what he was in prison for—murder. With the cold hard truth hitting Shaka for the first time, his toughness and prison shrewdness wore off, as right there in that moment he realized he failed his son and the other black males in his neighborhood.
Clinging on to hope from the letter his son wrote to him years earlier, Shaka continued to pour his time into literature, reading about Malcolm X and Nat Turner, Socrates and Donald Goines novels. He also discovered religion, meditation, and self-examination tools that he used to help him begin atoning for the wrongs he had committed. Shaka was more determined than ever to get a parole hearing. In 2008, he was granted a hearing but quickly denied, and then again in 2009, before he was able to enroll into the Assaultive Offender Program (AOP), a ten-month-long group therapy class required by all inmates with an assaultive case.
Shaka eventually completed the AOP class and was up for parole yet a third time. "If I am released from prison, I plan to work and volunteer at local high schools and community centers," he announced to a parole board member. He continued, "My ultimate goal is to pursue a career in writing."
On June 22, 2010, one day after his 38th birthday, Shaka was released from prison and was finally a free man. He stood by his words he shared with the parole board member, his family, and friends and became an activist and mentor to young men and women facing circumstances like his. His work in the community and the courage to share his story led him to fellowships at the MIT Media Lab and the Kellogg Foundation and invitations to speak at events like TED and the Aspen Ideas Festival.
WRITING MY WRONGS is an extraordinary tale of forgiveness, hope and second chances, one that reminds us that our worst deeds don't define who we are.
ABOUT THE AUTHOR:
SHAKA SENGHOR is a writer, mentor, and motivational speaker whose story of redemption has inspired thousands. He is the author of six books, a former Director's Fellow at the MIT Media Lab, a Community Leadership Fellow with the Kellogg Foundation, and the founder of The Atonement Project, which helps victims and violent offenders heal through the power of the arts. He currently serves as the co-founder of #BeyondPrisons, a #cut50 initiative to share the devastating and far-reaching human impacts of the incarceration industry. In addition to serving as a lecturer at the University of Michigan, Shaka speaks regularly at conferences, high schools, prisons, churches, and universities around the country.
Related Posts: