Press Releases
A LETTER TO MY MOM: A Heartwarming Collection Just in Time for Mother's Day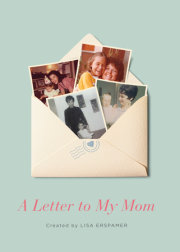 Lisa Erspamer
Imprint: Crown Archetype
On sale: 4/7/15
Price: $22.00
Pages: 160
ISBN: 9780804139670
Contact:
Rebecca Marsh
212-572-2544
rmarsh@penguinrandomhouse.com
We have so much to thank our mothers for. They support our dreams and kiss our scrapes; they're our role models, our cheerleaders, and our shoulders to cry on. Above all, they inspire us and make us who we are. In the heartwarming new collection, A LETTER TO MY MOM (Crown Archetype; $22.00; On Sale April 7, 2015), Lisa Erspamer has gathered personal letters from people all over the world, expressing gratitude for the lessons, experiences, and memories that their moms have given them. Contributors include celebrities such as Kristin Chenoweth, Melissa Rivers, Josh Groban, Kelly Osbourne, Shania Twain, Dr. Phil McGraw, will.i.am, and more.
 The third book in the popular series, after A Letter to My Dog and A Letter to My Cat, A LETTER TO MY MOM is a charming, funny, and touching tribute that arrives just in time for Mother's Day. Filled with beautiful photographs and sentiments, it showcases deeply personal stories of love, loss, friendship, hardship, conflict, silliness, and more. Each letter speaks to the extraordinary bond between mother and child, and the many different forms that bond can take.
There are moms who baked cookies, coached baseball teams, or threatened bullies, moms who wrote books, battled illness and abuse, and sang Patsy Cline songs. There are single and working and stay-at-home moms, immigrants and pioneers and superheroes. They put their lives at risk to protect their kids, made sacrifices for their success, or inspired them to start their own families.
Among the many contributors who have a few special words for their moms:
Emmy and Tony Award-winning actress and singer Kristin Chenoweth: "You have given me many gifts, but the most important one is easy: you told me to believe in myself always."
World-renowned chef Cat Cora: "This is my chance to say thank you for being different. For being wacky and eccentric … I wanted a normal family and thank goodness we never were."
Actress and TV presenter Kelly Osbourne, to her mother, Sharon: "You have taught me everything, from how to brush my teeth to staying true to my beliefs no matter what people say. The only thing you never taught me was how to cook!"
Model and Every Mother Counts founder Christy Turlington Burns: "Above all else you have taught me that being a mother is a commitment, and once you are a mother, you are a mother for the rest of your days."
Nashville stars Lennon and Maisy Stella: "You are an amazing mother, who yes, can't drive to the end of the street without a GPS, and yes, you may constantly have uncontrollable laughing fits at the worst times, but that's what makes you so fantastic."
Talk show host Dr. Phil McGraw: "Even at my age, I still do my best not to disappoint you. Not that I ever really could. People often joked that I could set the house on fire and you'd jump in to say 'Oh, he probably just needs a nap. It's OK!'"
Our relationships with our mothers are complicated, powerful, and one of a kind. But the cord that connects all these tales is unconditional love—even and especially in the face of obstacles. The poignant stories in A LETTER TO MY MOM celebrate the women who give us life and teach us how to live it.
About the Author
Lisa Erspamer is the president of Unleashed Media, a multimedia production company. Previously, Lisa served as chief creative officer and executive vice president of programming and development for OWN, as well as co-executive producer at The Oprah Winfrey Show. The creator of the A Letter to My… series, she lives in Los Angeles with her beloved dogs, Lily and Grace, and is at work on the next book in the series.
Find out more about the book at www.alettertomymom.com
Facebook: A Letter to My Mom
Twitter: @ALettertoMyMom
Instagram: @ALettertoMyMom
Related Posts:
You Might Also Like