Press Releases
A LETTER TO MY CAT
Notes to Our Best Friends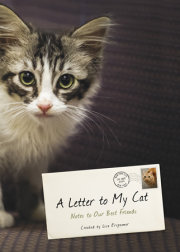 Lisa Erspamer
Imprint: Crown Archetype
On sale: 10/28/14
Price: $25.00
Pages: 176
ISBN: 9780804139656
Contact:
Rebecca Marsh
212-572-2544
rmarsh@penguinrandomhouse.com
In the follow-up to the hit book A Letter to My Dog, cat fanatics—including celebrities such as Dr. Oz, Joe Perry, and Stacy London—pay tribute to their favorite felines.
For millions of people everywhere, cats are more than just pets—they can be soul mates, companions, confidantes, and family. In the new book, A LETTER TO MY CAT: Notes to Our Best Friends (Crown Archetype; $25.00; On Sale October 28, 2014), Lisa Erspamer collects letters from cat lovers all over the world, including celebrities such as Dr. Mehmet Oz, Stacy London, Gina Gershon, Dita Von Teese, Fred Willard, Kat Von D, and Joe Perry of Aerosmith. This heartwarming compilation celebrates the feline friends who fill our lives with joy and companionship.
As a follow-up to the hit book A Letter to My Dog, A LETTER TO MY CAT features beautiful photographs and deeply personal letters from cat lovers to their beloved, four-legged friends. There are letters from the keepers of social media star Lil BUB and of Matilda, the official cat of the Algonquin Hotel. Readers will meet Buddy, who helped save his owner from sudden cardiac arrest; Koshka, who was rescued by an Army staff sergeant in Afghanistan; and Scooter, a disabled cat who comforts patients at hospitals and nursing homes.
The stories in A LETTER TO MY CAT are moving, funny, and full of love for our most discerning furry friends. Among the many touching sentiments:
Dr. Mehmet Oz tells Baby Cat: "I knew from the moment you came into our lives that you were the perfect addition to our family."
Animal Planet star Jackson "The Cat Daddy" Galaxy calls Velouria his "feline Sherpa through the years of discovering my true purpose."
Mike Bridavsky, owner of Lil BUB, says the Internet sensation is, "the best boss a dude could ever hope to have."
Gina Gershon writes to Cleo: "You have been my best friend, muse, traveling companion, and true love for the past seventeen years."
Carrie Ann Inaba remembers her first encounter with Taz: "That day I found you on the street is one I will always be thankful for."
Stacy London composes a poem for Al: "You talk to me endlessly / In purrs and meows / But I understand every word / As if they were bonjours and ciaos."
Beth Stern assures her blind rescue cat, Bella: "You are a survivor. Now, relax, sweet girl, and enjoy the life you so deserve."
With adorable photographs from Susan Weingartner, Sharon Hardy, and more, this beautiful book will charm any animal lover. Poignant, thoughtful, and downright hilarious, A LETTER TO MY CAT celebrates the unconditional love that cats bring into our hearts and homes.
About the Author
Lisa Erspamer is the president of Lisa Erspamer Entertainment and Unleashed Media. Prior to that, she was chief creative officer and executive vice president of programming and development for OWN, as well as co-executive producer of The Oprah Winfrey Show. She has partnered with the Best Friends Animal Society, a national nonprofit that collaborates with rescue groups and shelters to save dogs and cats in shelters across the country. The creator and coauthor of A Letter to My Dog, Lisa lives with her dogs, Lily and Grace, in Los Angeles, where she is working on her next book, A Letter to My Mom.
Related Posts:
You Might Also Like