Press Releases
Legendary anchorman Ron Burgundy's highly anticipated autobiography
Let Me Off at the Top!: My Classy Life and Other Musings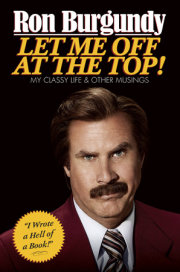 Ron Burgundy
Imprint: Crown Archetype
On sale: November 19, 2013
Price: $22.00
Pages: 224
ISBN: 9780804139571
Contact:
Tammy Blake
212-572-2542
tblake@randomhouse.com
Ron Burgundy is known to all as the lead anchorman of San Diego's award-winning Action 4 news team and anchor of the first 24-hour news channel, GNN (Global News Network), but few know the real man behind the news desk. In his highly anticipated autobiography, LET ME OFF AT THE TOP!: My Classy Life and Other Musings (Crown Archetype; On-Sale November 19, 2013; $22.00), Burgundy offers a rare glimpse behind the camera into the real life of a man many consider to be our greatest living News Anchor. In this hard-hitting, no-holds-barred, unafraid accounting of his exceptional life, Burgundy shares never-before-told stories of his childhood and the events that led him to choose a career in the news business. In his own words, he will share personal anecdotes about the women in his life, about his dog and best friend, Baxter, and his legendary news team. Along the way, he'll also offer sage advice on a variety of topics that matter most to him.
Based on over a thousand hours of recorded conversations with himself, LET ME OFF AT THE TOP! reads like an adventure story complete with knockdown fights, beautiful women and double-fisted excitement on every page. In it Burgundy reveals his most private thoughts, his triumphs and his disappointments. The youngest of Claude and Brender Burgundy's eight boys, Ron grew up in the desolate coal-mining town of Haggleworth, Iowa. Blessed with a melodious speaking voice and great hair, he knew from an early age he'd be a News Anchorman.
LET ME OFF AT THE TOP! chronicles his odd-defying climb to the dizzying heights of anchordom, from his formative years at Our Lady Queen of Chewbacca High School, where he participated in a wide array of activities including Flag Folders Club, Taxidermy Society, Jolly Jesters and basketball (where he still holds the Iowa state record for most technical fouls in a season) to his first job at the age of eleven as a busboy in Pinky's Inferno, the finest jazz supper club west of Chicago where his passion for jazz flute was ignited, to his early days at Channel 4 in San Diego where he formed the greatest on-air team in the history of televised news.
 Burgundy takes readers on a journey into his extraordinary life, which includes hunting jackalopes with Bobby Kennedy and Peter Lawford, running a cockfighting ring with Walter Mondale, his many amorous exploits (too numerous to list here) and hobnobbing with people you wish you knew and some you honestly wish you didn't—celebrities, presidents, presidents' wives, celebrities' wives, dogs and, of course Veronica Corningstone, the love of his life. From Walter Cronkite, Barbra Streisand, Katie Couric and Barbara Walters, who didn't Burgundy rub elbows with in the course of his colorful and often criminal life?
 Not only is Burgundy a great anchorman and a great flute player, he's also, not surprisingly, a great literary talent. With never-before-seen photographs (some in color!), this may well be the most thrilling book ever written, by a man of great physical, moral and spiritual strength. LET ME OFF AT THE TOP! is a very important book from an important man. Ron Burgundy has taken the time to write a book. We owe it to him to read it.
# # #
Ron Burgundy is an award-winning News Anchorman and poet. He lives with his wife, Veronica, and dog, Baxter, in San Diego, California. When he is not making models of eighteenth-century sailing ships, he can often be found on the deck of his own boat, The Shining M'Lady, or supervising archaeological digs in and around his backyard.
Related Posts:
You Might Also Like