Press Releases
What You Left Behind by Samantha Hayes
A new thriller by the author of Until You're Mine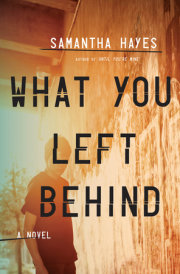 Samantha Hayes
Imprint: Crown Publishers
On sale: April 14, 2015
Price: $25.00
Pages: 320
ISBN: 9780804136921
Contact:
Annsley Rosner
212-782-9740
arosner@penguinrandomhouse.com
Praise for What You Left Behind
"Superb . . . Intense character studies, aided by a perceptive look at teenagers united by feelings of alienation, complement the unpredictable plot." —Publishers Weekly, starred review
"Hayes pulls readers in and keeps them captivated with plenty of red herrings, truly creepy characters, and a wickedly surprising ending that will stump even the most experienced thriller fan. Delightfully disturbing suspense that fans of John Connolly, Lisa Gardner, and Sophie Hannah won't be able to put down." —Library Journal, starred review
"Psychological-thriller fans will savor the suspenseful pacing and the relatable cast's interwoven motives and facades." —Booklist
"[T]he twists in the plot pull you in with foreshadowing and tension that won't let you go. And as the secrets hidden in small town life begin to come to light, the novel becomes one that cannot be put aside. Samantha Hayes has used her talent to write an irresistible thriller." —Suspense Magazine
---
With her novel Until You're Mine, bestselling author Samantha Hayes established herself as a master of the psychological thriller, putting her in the ranks of genre greats like Tana French and Rosamund Lupton. Now Hayes returns with WHAT YOU LEFT BEHIND (Crown; April 14, 2015), a mesmerizing new mystery.
Two years after a terrifying spate of teenage suicides, the remote village of Radcote has just begun to heal. Then a young man is killed in a freak motorcycle accident and a suicide note is found among his belongings. When a second boy is found dead shortly thereafter, the nightmare of repeat suicides once again threatens the community.
Desperate for a vacation, Detective Inspector Lorraine Fisher has just come to Radcote for a stay with her sister, Jo, but the atmosphere of the country house is unusually tense. Freddie, Jo's son, seems troubled and uncommunicative, and Jo is struggling to reach out to him. Meanwhile, Lorraine becomes determined to discover the truth behind these deaths. Are they suicides, or is there something more sinister at work?
Finding answers might help Freddie, but they'll also lead to a shocking truth: whatever it is—or whoever it is—that's killing these young people is far more disturbing than she ever could have imagined, and unraveling the secret is just as dangerous as the secret itself. Wicked, intense, and utterly compulsive, WHAT YOU LEFT BEHIND confirms Samantha Hayes as a top thriller writer.
ABOUT THE AUTHOR
Before becoming a writer, Samantha Hayes worked at jobs ranging from private detective to bartender to fruit picker and factory worker, lived on a kibbutz, and spent a few years in Australia and the United States. Her writing career began when she won a short story competition in 2003. She now lives in Warwickshire with her family. What You Left Behind is her second novel.
Related Posts:
You Might Also Like