Press Releases
By learning to dunk a ball at the age of 34, journalist Asher Price investigates the limits of his potential–and our own– in Year of the Dunk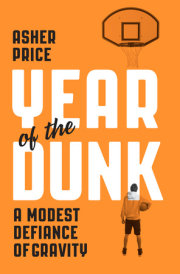 Asher Price
Imprint: Crown Publishers
On sale: May 12, 2015
Price: $26.00
Pages: 288
ISBN: 9780804138031
Contact:
Lauren Kuhn
212-782-8637
lkuhn@penguinrandomhouse.com
Advance Praise for Year of the Dunk
"Funny and informative, this book is a real pleasure. . . . You don't have to be a sports fan or an aspiring athlete to enjoy this profound debut memoir. Let's hope we hear more from Price soon." —Library Journal (starred)
"Journalist Price gleefully narrates his quest to dunk a basketball as a not-so-young adult. . . . A springy mix of science writing, memoir, and history that is by turns informative, entertaining, and endearing." —Publishers Weekly

"Price faced down numerous psychological and physical obstacles, as well as dramatic setbacks off the hardwood, but his optimism, perseverance, and development are at the heart of this good-natured chronicle of his efforts." —Kirkus Reviews
"Year of the Dunk is a science-sprinkled narrative so deftly spun you won't notice how much you're learning. It is by turns challenging, inspiring, suspenseful, and hilarious. Price's exploration of the limits of his own hops is undertaken on behalf of all who have ever set a lofty goal. This is one of the most enjoyable sports books I've read." —David Epstein, author of the New York Times bestseller The Sports Gene
"White men, it seems, can jump after all. In fact, they can soar, as Asher Price shows in Year of the Dunk, his craftily documented pursuit of the slam. As Price pursues his quest to throw down a rim-clearing stuff, his opponent is not just gravity but time. Price's journey to reshape his body and upgrade his hops becomes a fun meditation on the mid-air slam dance that for decades now has fascinated millions the world over."—Roland Lazenby, author of Michael Jordan: The Life
"From a seemingly simple quest—to launch his creaky body high enough to ram a basketball through a hoop ten feet off the floor—Asher Price has spun a high-flying tale of science and sweat that'll captivate even the most earthbound reader. Year of the Dunk is nerdy, fun, and full of surprises." —Earl Swift, author of Auto Biography
"In this quirky and endearing memoir of personal growth, Price leaps gamely from his own underdog story to the historical and scientific narratives that underlie his quest to dunk. He explores the evolution and biomechanics of jumping, unpacks the racial tensions bound up with dunking, and gives us the lowdown on all those high-tech sneakers. Two thumbs up." —Alex Stone, author of Fooling Houdini
"It's good! Year of the Dunk recounts science writer Asher Price's quest to train his body to dunk a basketball. And it's good! The book as well as the shot." —Gregg Easterbrook, author of The King of Sports 
Many dream of being a ballerina or an NBA star. Very few of us succeed, and a very few more might try and fail: we opt for hanging out with our friends over days of intense dance practice, or we just don't make the team. And most of us, as we get older, simply end up doing something more realistic. Yet in our fantasies, we still wonder whether those dreams could have been within reach, whether if we spent just a year away from our everyday distractions, we could rise above our terrestrial lot to complete thirty-two continuous fouettés en tournant or dunk a basketball. But how much can we really push our innate talents or triumph over our genetics, and is it ever simply too late to become what we could have been?
These are the questions journalist Asher Price seeks to answer in YEAR OF THE DUNK: A Modest Defiance of Gravity (Crown; May 12, 2015). Though more than six feet tall and mesmerized by the dunk since childhood, Asher never really pushed himself to try it. He faced some challenges; as he puts it, he's of Austro-Hungarian stock, a background more closely associated with making good pastries than with jumping ability. But Asher, already a cancer survivor in his mid 20s, was no stranger to wrestling with questions of how much control we have over our biology. At 34, healthy if not exactly fit, he decided to embark on a quest to investigate the untapped hidden talent he still possessed. August to August, he committed to one year of tireless training to achieve the dunk—and exhaustive research into the impressive physics and biology that go into that feat—to determine whether, embedded in his bones, muscles, and DNA, some grand, as-yet-unrealized jumping potential lay dormant. 
Transporting readers from Asher's training sessions with an Olympic gold-medal high jumper to a lab in Cambridge, England, focused on the study of leaping insects, YEAR OF THE DUNK recounts his interviews with athletes, scientists, and physiotherapists in his quest to understand the challenges that lay before him. The project that results is at once a poignant, witty memoir and a fascinating work of science journalism.
ABOUT THE AUTHOR: 
ASHER PRICEhas covered energy and the environment for the Austin American-Statesman since 2006. He studied English at Yale and has graduate degrees from Oxford and Columbia in public policy and journalism. More important for this project, Price is six two and a half with orangutan arms and ever-thinning hair.
Related Posts:
You Might Also Like