Press Releases
Learn how to draw superheroes with help from the legendary co-creator of the Avengers, Spider-Man, the Incredible Hulk, the Fantastic Four, the X-Men, and Iron Man
Stan Lee's How to Draw Superheroes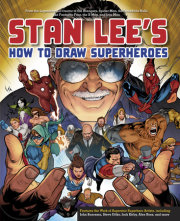 Stan Lee
Imprint: Watson Guptill
On sale: July 9, 2013
Price: $24.99
Pages: 224
ISBN: 9780823098453
Contact:
Kim Small
212-572-6067
ksmall@randomhouse.com
Certain names come to mind when you mention the word superhero—Spider-Man, Iron Man, the X-Men, the Incredible Hulk, to name a few. But perhaps there is no name more synonymous with the word superhero than Stan Lee, writer, editor, actor, producer, publisher, television and film personality, and the former president and chairman of Marvel Comics who has co-created hundreds of superhero characters.
Now Stan brings his unique expertise to his latest project:
Stan Lee's How to Draw Superheroes (Watson-Guptill, on sale July 9, 2013, $24.99). The book has everything aspiring superhero creators will need to make their own heroes, villains, sidekicks, monsters, super-pets, secret hideouts, super-teams, and more. It's filled with 24 step-by-step exercises to help readers learn how to draw all kinds of super-powered characters in a variety of poses, in their secret identities, using their powers, or just hanging in their hideouts. The incomparable Stan Lee dispenses easy-to-understand instructions, tips of the trade, and invaluable advice. Stan is your guide to the world of making the most kick-ass superheroes ever.
Every year from the 1960s to today new generations of readers discover and fall in love with Stan Lee's superheroes—whether they find them in comics, in the movies, in video games, or in cartoons. They're just as relevant now as they were when they were first created. That's what makes this book so special—Stan draws from the entire history of superhero comics and provides examples from legendary comics like Batman and Superman, Spider-Man and the Avengers. Stan shows readers everything they'll need to make their own mighty superheroes, just like his classic creations. He exposes his secret tools and techniques for bringing strong, inspiring heroes and heroines to life. These invaluable insights from one of the greatest superhero creators of all time are must-haves for all fans of Lee's incredible warehouse of superhero comic work.
Stan Lee's How to Draw Superheroes is the essential guide for anyone interested in superheroes, whether they aspire to make their own or they just want a fun look behind the curtain to see how one of comics masters brought to life the greatest heroes ever assembled.
About The Author:
STAN LEE is a legendary American comics writer, editor, and the former president and chairman of Marvel Comics. He has conceived more billion-dollar franchises than any other creator. He is the writer of the Amazing Spider-Man syndicated newspaper strip which appears in more than 500 newspapers worldwide—making it the longest-running superhero strip. More than two billion comic books based on his creations have been published in 75 countries and 25 languages. He was awarded the National Medal of Arts in November 2008. In October 2010, Lee launched the Stan Lee Foundation (www.stanleefoundation.org), promoting literacy, education, and the arts.
You Might Also Like