Press Releases
Learn how to draw Manga—Kawaii style!—with Manga for the Beginner Kawaii
From the world's leading author of drawing and cartooning books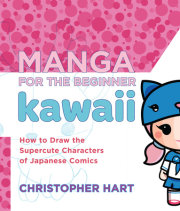 Christopher Hart
Imprint: Watson Guptill
On sale: August 7, 2012
Price: $21.99
Pages: 192
ISBN: 9780823006625
Contact:
Kim Small
212-572-6067
ksmall@randomhouse.com
From Hello Kitty to the huge array of Pokémon characters, the super popular manga genre known as kawaii (which means "cute" in Japanese) has taken Asia and Europe by storm, and now it's whimsically sweeping the United States. Kawaii's appeal knows no age limit—little kids love it, teens and college students love it, and even adults are not immune to kawaii's "awww"-dorable charms!
Now, for the first time, kawaii fans can learn to draw this manga style with Christopher Hart's Manga for the Beginner Kawaii (Watson-Guptill, $21.99, on sale August 7, 2012). No other book released in the United States shows how to draw all the popular kawaii character types such as squeezable, lovable monsters; so-cute-it-hurts animals; chubby and cuddly chibis; heart-melting fantasy pets, and moe (pronounced Moe-AYE), elegantly drawn older teen girls. You'll also find irresistibly delightful foods in the form of supercute pastries, ice cream cones, and other sweet treats that come to life, all drawn with kawaii-style charm and personality.
With Hart's help, kawaii has never been easier to learn to draw. He breaks down each step with his signature ease and takes readers through all the fundamental art techniques needed to bring these über-cute characters to life. This easy-to-follow guide offers a wide variety of character tutorials that will help you turn an ordinary character into a completely supercute kawaii character with just a few pencil strokes.
Manga for the Beginner Kawaii is full of simple instructions and visual examples to help create the most adorable characters ever put to paper!
 About the Author:
CHRISTOPHER HART is the world's leading author of drawing and cartooning books. His books have sold 3.1 million English-language copies and have been translated into twenty languages. Renowned for up-to-the-minute content, cutting-edge art, and easy-to-follow steps, all of Hart's books have become staples for a new generation of aspiring artists and professionals, and they have been selected by the American Library Association for special notice. He also hosts the TV segment "How to Draw Action Heroes with Chris Hart" for the Comcast TV network. Visit his website at www.ChrisHartBooks.com
Related Posts:
You Might Also Like