Press Releases
Learn how to hack your brain to become your best self!
Your Daily Brain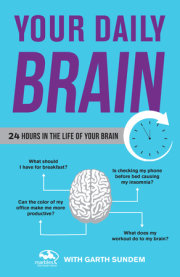 Marbles: The Brain Store
Imprint: Three Rivers Press
On sale: August 18, 2015
Price: $14.00
Pages: 192
ISBN: 9780804140119
Contact:
Allison Judd
212-782-9164
ajudd@penguinrandomhouse.com
With YOUR DAILY BRAIN: 24 Hours in the Life of Your Brain (Three Rivers Press, Trade Paperback Original, On Sale August 18, 2015), the team behind Marbles: the Brain Store, a chain devoted to building better brains, shows you all the weird and wonderful ways your brain works throughout the day—even when you think it's not working at all, like when you're on the treadmill or picking the kids up from school.
Modeled on a day in the life of your brain, YOUR DAILY BRAIN takes you hour by hour into what's actually happening inside your head and how exactly to maximize the use of your brain in order to help you live a better life.
Written in a fun, accessible tone, YOUR DAILY BRAIN offers tips to get readers to jump-start their brains, including:
• How to stop your teenager from texting while driving
• What color you should paint your office to be more productive
• How to find what you're looking for on the Internet, whether it's a cat GIF or an episode of that one TV show
• How you can juggle making lunches, packing school bags, getting dressed for work, making coffee, and feeding pets with ease
• What Instagramming and tweeting before bed does to your brain (and your sleep cycle) . . . and much more!
With YOUR DAILY BRAIN, readers can finally learn how to be more productive, creative, and happier, all by using the tools they already possess.
###
About the Author:
MARBLES: THE BRAIN STORE is a one-of-a-kind specialty retail store in malls across the country with a smart collection of hand-picked, expert-tested, certifiably fun ways to build better brains. They and their branded products have been featured in Good Housekeeping, Real Simple, USA Today, and Wired, as well as on the Today show and Martha Stewart Living. GARTH SUNDEM is the author of several books, including Geek Logik, The Geeks' Guide to World Domination, Brain Candy, Brain Trust, and Beyond IQ. He lives and writes in Boulder, Colorado.
Related Posts: