Press Releases
LEADING LADY by Stephen Galloway
Sherry Lansing and the Making of a Hollywood Groundbreaker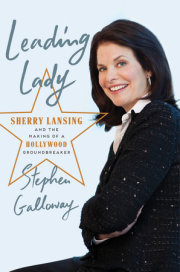 Stephen Galloway
Imprint: Crown Archetype
On sale: April 25, 2017
Price: $27.00
Pages: 416
ISBN: 9780307405937
Contact:
Penny Simon
865-675-1705
psimon@penguinrandomhouse.com
"A fascinating look at Sherry Lansing . . . Galloway has created a colorful page-turner chronicling Lansing's legacy as both a filmmaker and a philanthropist."
  —Publishers Weekly
"An energetic and entertaining story, filled with divas, tantrums, and abundant Hollywood gossip . . . a brisk, breezy look at the turbulent world of moviemaking."
 —Kirkus Reviews
"Galloway has crafted a sharp-eyed, captivating look at a brilliant pioneer who broke through the glass ceiling."
—Booklist
▪ ▪ ▪
When Sherry Lansing became president of 20th Century Fox in 1980 at the age of thirty-five, she didn't just shatter the seemingly indestructible glass ceiling of America's most visible industry, she also broke an unspoken taboo: that in Hollywood, men ran the studios and called the shots.
But Lansing, a big-dreaming Jewish girl from Chicago, didn't see it that way. After graduating from college, she and her husband packed up their car and made the long drive to Hollywood. Dangerously naïve and nearly penniless, Lansing started out as a math teacher in some of the toughest schools of South Central Los Angeles, auditioning for acting jobs when she could. She soon found that she was uncomfortable in front of the camera and left acting behind to become a script reader. So began the ascent of the most powerful woman Hollywood has ever known.
In LEADING LADY: Sherry Lansing and the Making of a Hollywood Groundbreaker (on sale April 25), award-winning journalist Stephen Galloway tells the definitive story of a creative innovator and unrelenting executive who breathed new life into Hollywood with such classics as Forrest Gump, Fatal Attraction, Braveheart, Titanic, Saving Private Ryan, Indecent Proposal, and The China Syndrome, along the way becoming an entertainment industry icon.
The first and only full-length biography of Lansing, based on four years of research and hundreds of hours of interviews with her and some two hundred others, LEADING LADY is the fascinating account of the epic journey of a woman who drew on her own vision and courage to transform the industry that tells the world's stories.
LEADING LADY traces the full arc of Lansing's life, detailing how the one-time teacher became a young and idealistic actress who fought to land parts in 1960s films, working with such giants as Howard Hawks and John Wayne, only to give up her dream of stardom for a bigger role off the screen. As president of 20th Century Fox and the chairman and CEO of Paramount Pictures, Lansing used her passion, talent, and perseverance to make movies that have inspired millions of people around the world with tales of meaning and risk-taking, love and obsession, generosity and jealousy, self-sacrifice, service, and faith.
At the height of her career, Lansing once again felt the pull to add more meaning to her life. A meeting with former President Carter steeled her resolve to resign from Paramount for what she describes as her "encore career"—doing groundbreaking philanthropic work. The woman who used to live and breathe movies now finds her excitement in science and public education.
With his rich knowledge of the industry, Galloway, the executive editor of the Hollywood Reporter, also pulls back the curtain on contemporary Hollywood, detailing Lansing's intimate involvement with many of today's biggest stars—among them Tom Cruise, Tom Hanks, Tina Fey, Ben Affleck, Angelina Jolie, and Leonardo DiCaprio—and her deep and at times stormy relationships with the likes of Jane Fonda, Michael Douglas, Sean Penn, and Harrison Ford.
True to the powerful, dramatic storytelling Lansing insisted on throughout her career, LEADING LADY provides a rare glimpse of the head-to-head battles she fought with other Hollywood heavyweights—from Robert Redford to Mike Myers, Scott Rudin to Robert Zemeckis—along with astonishing and previously unreported stories about the inner workings at Hollywood's highest levels, involving everyone from Steven Spielberg to Sumner Redstone. It also highlights the enduring love between Lansing and her husband, Academy Award–winning director William Friedkin (The Exorcist).
Many biographers develop mixed feelings about their subjects; Galloway had the opposite experience. "After hundreds of hours of interviews with Sherry, I came to admire her more than I ever thought possible," he writes. "She was the first woman to reign in this man's world and still the one who had done it best, changing it more than it changed her." At its core, LEADING LADY is the story of an unflinching woman who, refusing to let others define her, defined herself—in the process redefining the possibilities for women across America.
Related Posts:
You Might Also Like