Press Releases
THE LAURAS By Sara Taylor
From critically acclaimed and Baileys Women's Prize–nominated author Sara Taylor comes a dazzling new novel about youth, identity, and family secrets.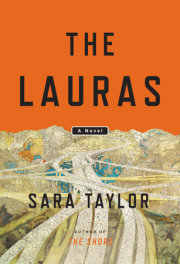 Sara Taylor
Imprint: Hogarth
On sale: 8/1/2017
Price: $26.00
Pages: 304
ISBN: 9780451496850
Contact:
Christine Johnston
212-572-6067
chjohnston@penguinrandomhouse.com
Sara Taylor's 2015 Baileys Women's Prize–nominated novel THE SHORE introduced her to the literary scene as a promising new voice in fiction, and her captivating forthcoming novel THE LAURAS (Hogarth; August 1, 2017) cements her rightful place as a remarkable talent on the verge of an avant-garde literary career. THE LAURAS, set in modern-day North America, evokes the tumult of adolescence and the powerful, enigmatic bond between mother and child. Told from the perspective of teenage Alex, who equates gender identification with unwillingly choosing a side in a war, this story takes readers on an epic cross-country road trip rife with secrets and pain. With a confident and lyrical grasp of language, Taylor boldly rejects binaries and challenges assumptions about gender and identity.
After a fight with Alex's father, Ma pulls Alex out of bed and onto a pilgrimage of self-discovery through her own enthralling past. Guided by a memory map of places and people from Ma's life before motherhood, the pair travels from Virginia to California, each new destination and character revealing secrets, stories, and unfinished business. As Alex's coming-of-age narrative unfolds across the country, we meet a cast of riveting and heartwarming characters, including brilliant Annie, who seeks the help of Ma and Alex to escape the patriarchal cult in which she was raised, and the tragic young Marisol, whose dreams of becoming a mother end in heartbreak.
From a Mississippi fishing town to the vulnerable passenger seat of a truck driver with sinister motives, Alex begins to realize that the road trip is not a string of arbitrary stops but a journey whose destination is perhaps Ma's biggest secret of all. THE LAURAS is an extraordinarily honest, fearless study of identity, the platonic and romantic relationships that alter the course of our lives, and our inability to truly leave our pasts behind. With the North American landscape as the sweeping background, Alex and Ma come to discover that revisiting places from one's past can both tear open old wounds and tie up loose ends.
ABOUT THE AUTHOR: Sara Taylor was born in rural Virginia, where she was home-educated. Between secondary school and college, she painted houses, demonstrated open-hearth cooking for museums, and opened a café. At twenty-four years old, she completed her MA at the University of East Anglia and is currently working on a PhD.
Related Posts: