Press Releases
Laura Wattenberg's magical method for finding the perfect name for your baby, The Baby Name Wizard, Revised 3rd Edition
A fully revised and updated version of the classic baby-name guide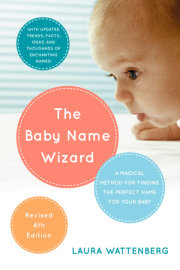 Laura Wattenberg
Imprint: Three Rivers Press
On sale: May 7, 2013
Price: $14.99
Pages: 544
ISBN: 9780770436476
Contact:
Lauren Kuhn
212-782-8637
lkuhn@randomhouse.com
We're in the midst of a baby-naming revolution, and it's not just celebrities who are pushing the style envelope. Today's American girl is more likely to be named London or Genesis than Mary or Margaret. Parents want their kids to stand out, not fit in, and that has created a landscape where there is no longer such a thing as a "normal" name. (As Teddy Wayne noted in his piece on the "boom in outlier nomenclature" in the New York Times Book Review in April, the 50 most popular names were given to 63 percent of all boys and 52 percent of all girls in the 1950s, whereas by 2004, the top 50 names applied to only 35 percent of boys and 24 percent of girls.) For expectant parents, that means unprecedented pressure. How do you find the best choice in an unlimited menu? And how do you make sure your perfect name doesn't turn out to be the same perfect name as three other kids in your playgroup? Enter Laura Wattenberg's THE BABY NAME WIZARD, REVISED 3RD EDITION: A Magical Method for Finding the Perfect Name for Your Baby (on sale May 7, 2013), which uses groundbreaking research and computer-generated models to pinpoint each name's image, examine its usage and popularity over the past one hundred years, and suggest other promising ideas. 
Since she designed her acclaimed name-analysis software and penned the first edition of THE BABY NAME WIZARD in 2005 with an updated edition in 2009, Wattenberg has become one of the nation's leading experts on baby names, interviewed for countless features on naming, including in the New York Times and on NPR's All Things Considered. Now, Three Rivers Press is thrilled to publishing Wattenberg's latest edition, appropriately timed to the Social Security Administration's annual May announcement of the most popular baby names of the past year and including hundreds more names, updated graphs and name rankings, celebrity examples, new style categories (Are you ready for video-game names?), and all-new maps of regional name styles, from "Classic Ladies" to "Preppy Cowboys." 
THE BABY NAME WIZARD covers the traditional and the trendsetting, making sure parents are equipped with all the right tools to find the perfect name for their newest addition to the family.
###
ABOUT THE AUTHOR: "Baby Name Wizard" LAURA WATTENBERG takes a unique research-driven, analytical approach to understanding names and style. Through her book and website, she has helped countless thousands of parents find the perfect names for their growing families.