Press Releases
THE LANGUAGE OF KINDNESS: A Nurse's Story
By Christie Watson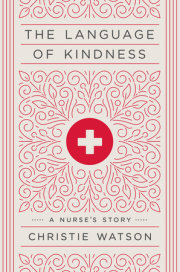 Christie Watson
Imprint: Tim Duggan Books
On sale: May 8, 2018
Price: $27.00
Pages: 336
ISBN: 9781524761639
Contact:
Sarah Jean Grimm
2127828637
sgrimm@penguinrandomhouse.com
THE LANGUAGE OF KINDNESS: A Nurse's Story (Tim Duggan Books; May 8, 2018) is a poignant, lyrical portrait of a nurse from award-winning British novelist and twenty-year nursing veteran Christie Watson.
One of life's sad truths is that all of us will one day touch illness. Whether it strikes us, a beloved family member, or a friend, at some point we will depend on the support and dignity that nurses offer in our most vulnerable moments. Watson sees it as a privilege to witness people at their frailest, most significant, and extreme moments of life, and to have the capacity not just to care for but also to love complete strangers. But the kindness nurses embody is often seen as secondary to diagnosis, medicine, and cure, when in fact nursing is often what matters most to patients. In the smallest of actions, the most undervalued of professions provides the most vital care. And if how we treat our most vulnerable is a measure of our society, then the act of nursing itself is a measure of our humanity. Yet these women and men who form the vanguard of our health service remain largely behind the scenes and publicly unsung.
In her stirring portrait of a nurse and the many lives she has touched, Watson takes readers on a personal tour through the daily life of a hospital. In the neonatal unit, premature babies fight for their lives, hovering at the very edge of survival, like tiny Emmanuel, wrapped up in a sandwich bag. In the cancer ward, nurses administer chemotherapy and, long after the medicine stops working, something more important—which Watson learns to recognize when her father is dying of cancer. In the Pediatric Intensive Care Unit, nurses wash the hair of a little girl to remove the smell of smoke from a house fire. The emergency room is overcrowded as ever, with waves of alcohol- and drug-addicted patients, as well as patients like Betty, a widow suffering chest pain, frail and alone. And the stories of the geriatric ward—Gladys and older patients like her—show the plight of the most susceptible members of our society. Throughout the hospital, we encounter the nurses who trained Watson, instilling in her the skills and strength of purpose that carried her through her career.
Beautifully written and often heartbreaking in its portrait of pain and grief, THE LANGUAGE OF KINDNESS takes vital stock of the human experience. With warmth and empathy, Watson delivers inspiring insights into nursing, reminding us of all that we share and of what it is to be human.
About the Author
CHRISTIE WATSON is a British novelist and former nurse. She won the Costa First Novel Award for her first book, Tiny Sunbirds, Far Away. Her second novel, Where Women Are Kings, was also widely translated and received international acclaim. She lives in London with her children.
Related Posts: