Press Releases
L. Y. Marlow's poignant story of a decades-long interracial love affair, A Life Apart
The author of Color Me Butterfly returns with another moving portrait of love and family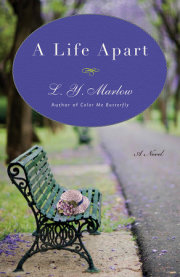 L. Y. Marlow
Imprint: Broadway Books
On sale: April 22, 2014
Price: $16.00
Pages: 464
ISBN: 9780307719393
Contact:
Lauren Kuhn
212-782-8637
lkuhn@randomhouse.com
"A forbidden interracial attraction spans decades of secret involvement and some surprising attachments to reach a place of forgiveness…. Marlow deftly tugs the heartstrings throughout." –Kirkus Reviews 
In 2010, L. Y. Marlow's poignant semi-autobiographical family epic of love, faith, and triumph over abuse, Color Me Butterfly, propelled her along with her organization Saving Promise into the public discourse. As Essence magazine wrote, "Based on the author's own horrifying true tale of four generations of women surviving domestic abuse, Color Me Butterfly powerfully illuminates the emotional impact of a crime that claims the lives of more than three women a day." Marlow told her personal story in interviews across the country, including NPR's Tell Me More, advocating for Saving Promise's mission to increase awareness of and prevent domestic violence. Marlow has continued to be an important voice on the issue, with recent interviews on CNN and MSNBC. 
In her new novel, A Life Apart: A Novel (Broadway Books; April 22, 2014), Marlow delivers another complex and emotional portrait of love and family—this time taking for her inspiration a sweeping historical romance sprawling from World War II through the civil rights movement and to the present day—and movingly depicts the effects of war and racial tension in post-war and civil-rights-era Boston. 
When Boston native Morris Sullivan joins the navy in 1940, his hopes are high and he is thrilled to be pursuing his lifelong dream—only to be shipped off to Pearl Harbor when the war begins. After he narrowly survives the 1941 attack, thanks to the courage of a black sailor he doesn't know, Morris becomes increasingly disconnected from his wife and high school sweetheart Agnes, who grows more and more distraught over the growing distance between them. Determined to pay respects to his rescuer's family, Morris reaches out to the man's sister, Beatrice Dobbins, who happens to have moved to the more liberal, integrated Boston from the stifling South of her upbringing. From the moment the two meet, Morris and Beatrice are instantly drawn to each other. But Morris has a wife and daughter, and Beatrice has seen first-hand the violence black men and women can suffer when they cross the boundaries of race. Yet despite their attempts to deny their growing bond, their lives become forever changed and intertwined. 
At once a family epic and a historical drama, A Life Apart is a beautifully compelling story of love and loyalty, and a powerful exploration of guilt and betrayal.
Related Posts: