Press Releases
Kristiana Kahakauwila's visceral, poignant, and elegantly gritty work of debut fiction, This Is Paradise
Kahakauwila's story collection announces an important new voice in literary fiction in the vein of Edwidge Danticat, Junot Díaz, and Danielle Evans.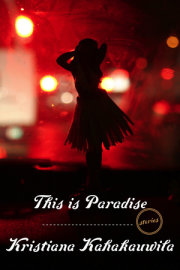 Kristiana Kahakauwila
Imprint: Hogarth
On sale: July 9, 2013
Price: $16.00
Pages: 240
ISBN: 9780770436254
Contact:
Lauren Kuhn
212-782-8637
lkuhn@randomhouse.com
Praise for This Is Paradise
"[A] sparkling debut story collection . . . A writer with one foot in the native Hawaiian community and the other in the mainland mainstream gives us an edgy, unmistakably authentic glimpse of the harder side of island life. Kahakauwila captures in six related stories the striving lives, colorful pidgin dialect, and varied relationships that anchor and challenge her strikingly drawn characters." —ELLE
"This Is Paradise, by Kristiana Kahakauwila, navigates an ocean of tension between tourists and islanders in paradisiacal, paradoxical Hawaii. Gritty, haunting, and suspenseful." —O, The Oprah Magazine
"Vividly imagined, beautifully written, at times almost unbearably suspenseful." —Joyce Carol Oates
"Finely wrought work from an impressive new talent." —Kirkus
"Filled with an energy and outrage reminiscent of Jamaica Kincaid. . . .  a well-crafted work that compassionately treats the men and women who love and suffer in an island paradise." —Publishers Weekly
"Cogent explorations of regret, remorse, ambition, and ambivalence can take place anywhere on earth, but in a land known for its beguiling enchantment, such fatalism takes on a forbidding, even sinister, mien as Kahakauwila deconstructs the aloha myth." –Booklist
"An impressive debut by a writer to watch." —Alix Ohlin, author of Inside
"The immersive stories of This Is Paradise are a lithe blend of formal invention and traditional narrative pleasures. . . .  [Kahakauwila's] protagonists are as richly distinctive as the pidgin they speak, and yet each struggles profoundly with identity—that negotiation between ourselves and the world, which is at once Hawaiian, American, universally and compellingly human." —Peter Ho Davies, author of The Welsh Girl
"Again and again, Kristiana Kahakauwila renders the complex beauties of her native Hawai'i in a vivid, burning, and altogether original light."     —Michael Byers, author of Percival's Planet
 Already hailed as a "sparkling debut story collection" (ELLE) and "gritty, haunting, and suspenseful" (O, The Oprah Magazine), Kristiana Kahakauwila's short story collection, THIS IS PARADISE: Stories (Hogarth Paperback Original; July 9, 2013), strikingly exposes the dangers lurking beneath Hawai'i's myth of paradise. In her stunning debut, drawing comparisons to Jamaica Kincaid (Publishers Weekly), Kahakauwila, a hapa haole (half-Hawaiian, half-Caucasian) whose childhood was split between California and Maui, poignantly captures modern Hawai'i in all of its richness and complexity—its anger, its sadness, and its sense of history reverberating into the present. 
Through its penetrating and incisive exploration of the tensions between native Hawaiians, local citizens, and emigrants from (and to) the contiguous forty-eight states, THIS IS PARADISE perfectly depicts the struggle of what it is to be between—between change and tradition, between locales, and between identities—and powerfully examines how we define ourselves and our relationships to those around us. Kahakauwila's portrayal of people whose lives have lost their center of gravity is acute, often heartbreaking, and suffused with a deeply felt empathy. In "Wanle," a young woman decides to take revenge on the man who had her father murdered—only to find that her father wasn't who she thought he was. In "This Is Paradise," three different groups of Hawaiian women observe and comment on the progress of an American tourist through one day and one night in Honolulu. In "The Old Paniolo Way," a man returns to Hawai'i and struggles with the decision to come out to his dying father. 
With razor-sharp prose that is at once haunting, beautiful, and poetic, THIS IS PARADISE announces an important new voice in literary fiction in the vein of Edwidge Danticat, Junot Díaz, and Danielle Evans. 
ABOUT THE AUTHOR: KRISTIANA KAHAKAUWILA, a native Hawaiian, was raised in Southern California. She earned an MFA in fine arts from the University of Michigan and a BA in comparative literature from Princeton University. She has worked as a writer and editor for Wine Spectator, Cigar Aficionado, and Highlights for Children magazines. She taught English at Chaminade University in Honolulu and is now an assistant professor of creative writing at Western Washington University.
Related Posts: